Verizon May Limit iPhone Data Usage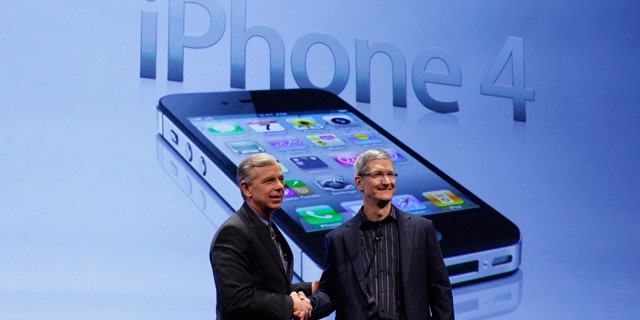 Verizon Wireless warned customers it may clamp down on heavy users of its wireless data services before an anticipated deluge of Apple iPhone customers.
The mobile service provider is expected to benefit from strong pent-up demand for the device as it ends AT&T's more than three-year hold on U.S. iPhone sales.
During the first day of online sales of its new iPhone, the Verizon appeared initially to be facing heavy demand for the phone on its website, as some who tried to buy it were instead stymied by error messages. Verizon said its system ran smoothly and that the errors were user-specific.
One perceived advantage of buying the Verizon Wireless iPhone was its offer, at least initially, of unlimited data services for a flat monthly fee of $30. AT&T eliminated its unlimited data plan last year.
However some consumers may be less excited about this, if Verizon Wireless starts slowing down download speeds for the heaviest 5 percent of its smartphone data users as a document on its website suggests, analysts said.
"Neither one is rolling out the red carpet for heavy data users," said Current Analysis analyst Avi Greengart. "It makes Verizon Wireless equally unattractive."
Verizon Wireless, a venture of Verizon Communications and Vodafone Group Plc, did not respond to requests for comment on the restriction.
The No. 1 U.S. mobile service started taking online orders from existing customers for the iPhone at 3 a.m. EST on Thursday, a week before it is due to hit its store shelves.
The company said the ordering system was holding up well and they were still taking pre-orders as of 6 p.m. EST (2300 GMT). A spokeswoman said the glitches tended to be "account-specific", such as when a would-be customer may not have been authorized to buy an iPhone because they were not the primary holder of a family or business account.
Verizon was working to replace a now-generic error message with messages explaining what that specific customer's problem is, she added.
When AT&T and Apple launched pre-orders of the iPhone 4 in June last year, heavy demand caused technical problems on both companies' websites.
Some analysts said Verizon Wireless could sell as many as 13 million iPhones this year. Verizon's earnings guidance for the year assumed sales of 11 million iPhones, in line with the average analyst estimate.
GOOD BUT WITH TRADE-OFFS
While many of AT&T customers are tied into contracts, analysts still expect some to leave for Verizon due to AT&T's reputation for poor network performance, particularly in cities like New York and San Francisco.
The first reviews of the iPhone designed to run on Verizon network, which came out on Thursday, said the Verizon Wireless iPhone voice service worked better than the AT&T iPhone service. They noted that switching from AT&T would come with some trade-offs.