Verizon Introduces Share Everything Plans Based on Data Consumption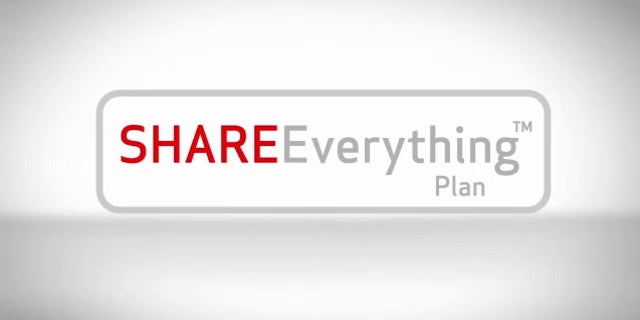 In an industry first, Verizon Wireless has announced new Share Everything Plans, which focus on data consumption rather than voice or text usage. Unlimited voice minutes and unlimited text, video and picture messaging are included with a Share Everything Plan, and data usage can be split between up to 10 Verizon Wireless devices. New and existing customers can sign up for a Share Everything Plan starting June 28.
The monthly cost of Verizon's new plan is based on two factors: the number and type of devices as well as the amount of shared data. The devices add a base price to the plan, $40 per smartphone and $30 per basic phone, and shared data starts at $50 for 1GB. This means that plans start at $90 per month for a single smartphone user consuming up to 1GB of data. Tablets can be added to the plan for $10 and netbooks for $20. Shared data allowance caps at 10GB for $100.
Even though this is a radical change to the wireless billing structure, users with a single device won't see much benefit from switching to Verizon's new plan. For the same price as the least expensive Share Everything Plan, Verizon customers can opt for a traditional plan providing double the data allowance, 2GB, with unlimited text messaging and a cap of 450 minutes. On AT&T, the same $90 per month provides 450 voice minutes, unlimited messaging and 3GB of data usage.
Customers who have multiple devices on a single plan, however, may find a combination that will save money off their current monthly bill. Additionally, the Share Everything Plans do not change extra for using a phone as a mobile hotspot, a add-on that carriers can cost up to $20 per month.
A global increase in smartphone users is changing the marketplace of mobile data consumption, forcing carriers to adapt to new demands. Smartphones consume significantly more data than previous generation feature phones, allowing users to browse the internet and connect to social networks via cellular data providers. "Share Everything Plans are the new standard for wireless service," said Tami Erwin, vice president and chief marketing officer for Verizon Wireless. "Customers no longer have to think about their voice and message plans, because both are unlimited."