Twitter now lets you add up to four images to tweets, introduces tagging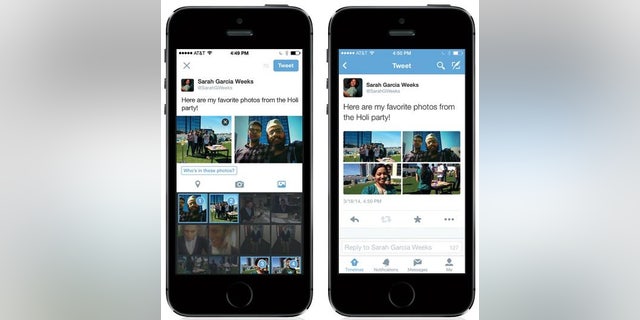 NEWYou can now listen to Fox News articles!
Twitter is continuing in its ongoing quest to place more emphasis on photos, on Wednesday rolling out an update that allows users to add up to four images to a single tweet instead of just the one.
Now, if you add more than one image to a tweet, a collage is automatically created. When a follower taps on the preview image in their timeline they can then view each of the individual photos by simply swiping through them.
"The ability to upload multiple photos is starting to roll out today on iPhone, and is coming soon to Android and twitter.com," César Puerta, a software engineer at the social media site, said in a post announcing the new feature. "Whether you're on iPhone, Android or twitter.com, you can view tweets with multiple photos."
Tagging
Users can also now tag up to 10 individuals in an image, with character count unaffected.
When you select an image to embed in a tweet, you'll see a "Who's in this photo?" button. Simply tap it and add either a full name or @username and then hit Done. Then all you need to do is tap out your message and fire it off.
Anyone tagged in an image will receive a notification. If you're unhappy about being tagged, simply visit your Settings page and select the option that prevents others from tagging you in an image. You can also untag yourself from any image at any time simply by tapping the three dots beneath the tweet and hitting "Remove tag from photo."
According to Puerta, the new features have been introduced to make the microblogging service "more social". They also make it a little more like Facebook and Instagram, which both allow users to tag photos. While Facebook has long enabled the practice, Instagram, which Facebook acquired in 2012, only introduced it in May last year.
Tagging could be particularly useful for Twitter users, however, as it now means they no longer have to use up any of their precious 140 characters with @mentions in a tweet, as anyone in an image will now be notified via a tag.