This NFL player is also an accomplished math whiz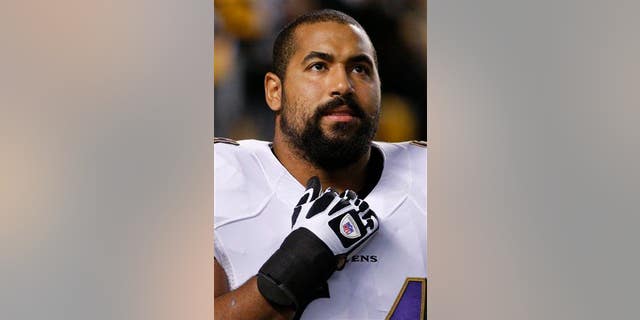 You can throw the "dumb jock" stereotype right out the window when it comes to John Urschel. The Baltimore Ravens offensive lineman has penned a paper titled "A Cascadic Multigrid Algorithm for Computing the Fiedler Vector of Graph Laplacians" and published it in the Journal of Computational Mathematics, per Bloomberg.
He also has a bachelor's and a master's degree in math (both achieved with a 4.0 GPA), does research in his spare time in the fields of "numerical linear algebra, multigrid methods, spectral graph theory, and machine learning," and has "aspirations of eventually being a titled [chess] player one day," he noted last week on the Players' Tribune site.
He also says his family and friends are baffled why he'd risk brain injury in the NFL when he could jump into his intellectual pursuits full time.
He acknowledges he doesn't do it for the money. "I already have more money in my bank account than I know what to do with," he writes for the Tribune.
"I drive a used hatchback Nissan Versa and live on less than $25k a year … because the things I love the most in this world (reading math, doing research, playing chess) are very, very inexpensive." His reasoning is actually more straightforward than that: "I play because I love the game. I love hitting people. There's a rush you get when you go out on the field, lay everything on the line, and physically dominate the player across from you." Football, he can't quit you—which is why he ends his essay with "And for that reason, I truly envy Chris Borland," the rookie who just retired from the NFL.
Check out Urschel's Twitter feed for updates on chess tourneys he's competed in and math jokes. (Interestingly, a lot of mathematicians have met awful fates.)
This article originally appeared on Newser: NFL Player Is an Accomplished Math Whiz
More From Newser