The TAG Heuer Connected is the first luxury Android Wear smartwatch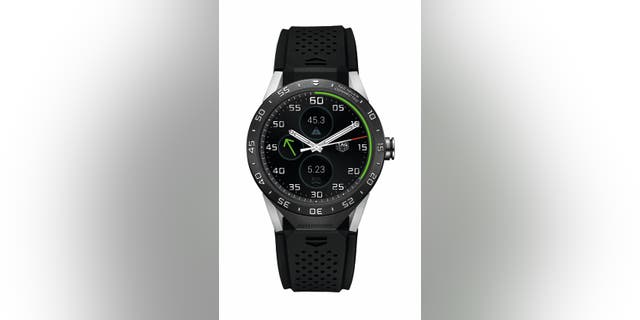 We've known about TAG Heuer's plans to release a high-end Android Wear device for months now, and the luxury watchmaker has finally made it official. At its press event Monday, TAG took the wraps off its new connected smartwatch, the TAG Heuer Connected.
Inspired by the company's Carrera watch, the Connected is made of grade 2 titanium and comes in a total of seven colors. It comes with a 1.5-inch circular LTPS LCD scratch-resistant sapphire crystal display with a resolution of 360 x 360 and a pixel density of 240ppi. It's 12.8mm thick, 46mm in diameter and also comes with a rating of IP67 for water resistance. There will be a number of useful watchfaces on the Connected as well, and you can customize each one with different information such as weather, step count or calorie count.
It sports a 410mAh battery which TAG says will get users 25 hours of use at a minimum. Additional specs include a 1.6GHz dual-core Intel processor, 1GB of RAM and 4GB of on-board storage.
Smartwatches become obsolete much more quickly than standard mechanical watches do, which is why TAG Heuer is giving you the chance to trade in your new wearable if it becomes dated. In two years, you'll be able to pay another $1,500 and trade in your Connected for a more traditional TAG Heuer Carrera watch. Considering the fact that normal Carrera watches cost about $3,000 a piece, this might not actually be a bad deal.
The new smartwatch went on sale Monday in the U.S. on TAG Heuer's website for a massive $1,500. Only the Black band color option is available online. All other color options will be available in TAG Heuer stores around the world. European users can purchase the wearable starting Nov. 12.
So, what are your thoughts? Do you think TAG's new smartwatch is worth the money?