The Real Story Behind the Fake Resignation That Swept the Web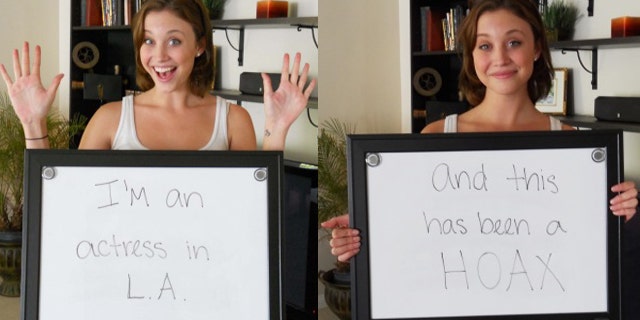 It's the sort of thing everyone wishes they'd done, if only they had the guts.
And for a moment, everyone thought that a woman called Jenny had actually done it -- resigned from her job, gotten back at her boss and turned into an Internet celebrity all at once.
A collection of photos showing Jenny writing her resignation on a portable whiteboard took the Internet world by storm this week, with nearly half a million people sharing it on Facebook.
The photos showed Jenny leaving several parting messages for her former colleagues, including her boss, with matching facial expressions to boot.
She described her time as a personal assistant as "a special hell," said she knew her boss had been describing her as a "hot piece of a--," and revealed how much time he wasted playing Farmville at work.
The stunt earned her an army of fans who praised her for sticking it to the man and described her as a "girl next door" version of Angelina Jolie. Which is all good and well, except that Jenny doesn't actually exist. She was actually an actress named Elyse Porterfield.
The story was a hoax created by the owners of humor website The Chive, who told the world of their prank in a second collection of photos showing Porterfield again writing on the whiteboard.
"I'm an actress in LA," reads one message. The next says: "And this has been a hoax."
But despite the admission, Jenny's story is still doing the rounds with people sharing it as though it was real. And for one of the creators of the hoax, it doesn't really matter.
"I couldn't care less," said John Resig in an interview with news.com.au. "I think the media is very self-satisfied that they've outed the hoax."
"(But) I would go so far as to say that 80 percent of Americans will always think that this is real, because the purpose of this hoax was to inspire and entertain, it was not to inform."
Resig said that even though the point had been to create a viral hit, his team was surprised by how popular Jenny's story had become.
"Our expectations were blown away. It was sort of fun watching this hoax grow from just a neophyte to a full-grown thing in just a couple of hours.You have a front row seat to something going viral, and that's pretty cool at 4.30 in the morning."
This isn't the first time the team at The Chive has "punked" the Internet, but Resig said it had been one of the most memorable.
"This one I'm most proud of because I think it's the amalgamation of everything I've learned about hoaxes and storytelling and social media," he said.
And what about "Jenny"? Well, the public weren't the only ones kept in the dark about The Chive's plan.
"I was told that I would be quitting my job via dry-erase board but didn't know the full story until I arrived for the shoot," said Porterfield.
"It was so fun that all I was thinking was: 'Man, this is the best gig ever.' I wasn't even thinking about what it might turn into."
The actress, originally from Colorado but now in California, told news.com.au the hoax had already led to other offers of work.
"I'm just now trying to weed through them," she said.
As for the photo shoot itself, Porterfield said it took about two hours, after Resig's camera "died" halfway through.
"No problematic shots though, except that board is a bit heavier than it looks."