Flighty or Folk Hero? Jury's Still Out on Steven Slater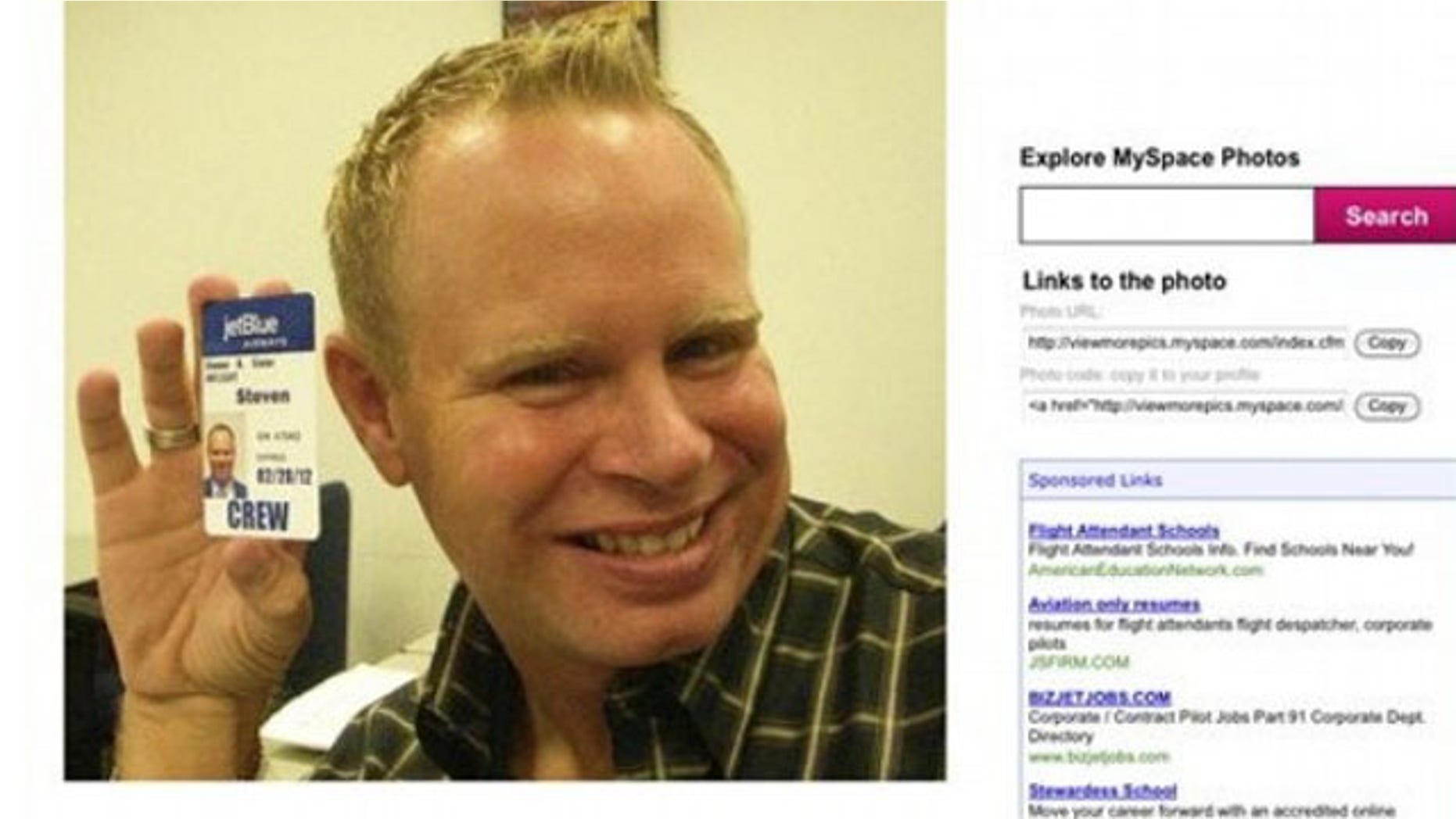 Steven Slater gained instant notoriety Monday after he apparently hurled a profanity-laced rant at a female passenger via intercom during his shift as a JetBlue flight attendant -- shocking passengers -- then grabbed two beers and slid down the plane's emergency chute yelling "I've had it!"
Now he is facing felony charges, and is being pitied by some as an unstable recovering alcoholic, while being praised by others as a hero for staging a sort of airplane version of "Office Space" -- sticking it to his bosses in a dramatic exit from the Embraer E190 jet carrying 100 passengers.
But just who is this guy? The enigma that is Slater may be too complex to unravel.
Slater, 38, has now acquired an impressive fan base on social networking sites like Twitter and Facebook, while authorities have charged him with criminal mischief and reckless endangerment after his bizarre stunt on the tarmac at New York's Kennedy Airport.
Slater, who has no known criminal past, grew up in Thousand Oaks, Calif., with two parents in the airline business -- his mother worked as a flight attendant and his father, now deceased, was a pilot for American Airlines.
A former neighbor of Slater's in California, who spoke to FoxNews.com on condition of anonymity, said Slater attended Thousand Oaks High School before leaving in his senior year to attend a private school for "accelerated" students.
"He was very smart," the neighbor said, adding that he did not believe Slater graduated from college.
Slater,  who now lives in Queens, N.Y., was described by neighbors as "people-oriented" and "courteous." He claims on his LinkedIn profile to have worked in the airline industry for a number of years, beginning in 1994 as a flight attendant for Business Express Airlines. From 1996 to 1997, he worked as a cabin attendant for the defunct TWA, according to his profile, before taking a five-year position with Delta Airlines as a flight attendant.
Slater claims he left the airlines industry from 2003 to 2005 to work as an accessories shop manager for the Burberry department at Bloomingdale's. His profile doesn't list what job, if any, he held from May 2005 to January 2008, when he claims to have begun work as a flight attendant for New York-based JetBlue Airlines. The airline has so far not disclosed Slater's dates of employment.
Slater reportedly wed Cynthia Niethamer in 1991 and divorced her less than a year into the marriage. The two met when they were 16 while working at a JC Penney store, according to press accounts. Slater reportedly now lives with his male partner, Ken Rochelle, in an apartment in Rockaway Park, N.Y.
Slater's outburst aboard JetBlue Flight 1052 has raised several questions that have yet to be answered: Was the dramatic scene spontaneous or premeditated? Had Slater snapped under immense stress after a passenger hit him on the head with a piece of luggage? Or did his behavior reveal a mentally disturbed individual who cracked during a seemingly typical flight scenario?
Neighbors of Slater's told FoxNews.com that while he "loved" working for the airlines, he was "frustrated" in recent weeks because his schedule made it difficult for him to visit his mother, who lives in California and who is undergoing chemotherapy for lung cancer. FoxNews.com reached Diane Slater, of Thousand Oaks, Calif., but she declined to comment on her son due to illness.
Mike Hodgins, a longtime neighbor of the family in California who has known Slater since he was 6 years old, said Slater wanted to relocate to care for his mother.
"He said the job was going OK but that he was having a difficulty with his schedule," said Hodgins, who said he saw Slater three weeks ago outside his mother's home. "He wanted to move out to California, but that wasn't possible with JetBlue."
"Something had to trigger him to do it," Hodgins told FoxNews.com, adding, "It's out of character, but he does have this sly little funny sense of humor."
"People who flip out usually don't know what they're doing. He knew exactly what he was doing," he said. "You can't condone what he did because, let's face it, he broke the law, but you can certainly understand why he did it."
Hodgins added that he was not aware of any psychological or behavioral issues that Slater may have had, saying, "He's not this angry, angry person. He's a good honest kid who used to baby-sit my kids."
Slater's ex-wife has reportedly also defended his character, and said his actions aboard the plane were hardly surprising given his "dramatic" streak. Cynthia Susanne said Thursday on ABC's "Good Morning America" that she does not believe that Slater started the confrontation that led to his surprising exit. The couple have a son together.
"You would never pick him out as any kind of a troublemaker," Slater's grandfather, Harry Neithamer, said in an interview with FoxNews.com. "I haven't seen him for quite a number of years, but I don't think his personality changed."
Neithamer said he was surprised that Slater is "getting all this publicity," while the name of the passenger has yet to be disclosed.
"He's the last one who you would ever expect to be charged with criminal mischief," he said.
Some passengers, meanwhile, have described Slater's behavior on the plane as alarming from the moment the airliner left Pittsburgh for New York.
Marjorie Briskin of Pittsburgh, Pa., told The Wall Street Journal that Slater had a "nice gash" on his head for most of the flight -- though it's not clear when and how he sustained the injury. Briskin reportedly said Slater looked noticeably "disturbed" near the end of the flight when he began opening overhead bins and slamming them shut.
Whatever led to the spectacle, Slater has been hailed a hero in the online world. One Facebook group in support of Slater had more than 170,000 members as of early Thursday, and another said it was raising money for Slater's legal defense. And the Association of Flight Attendants, the biggest flight attendant union in the country, reportedly told TMZ.com that it is willing to provide Slater with legal assistance and possibly therapy.