The Back-to-School Wish List for Your Favorite Navy SEAL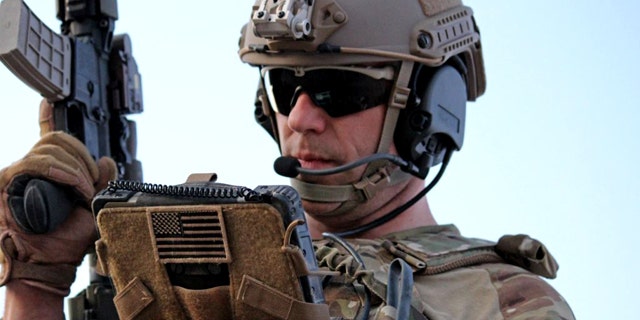 From Terminator-style soldier robots and invisible force fields for tanks to high-tech helicopters and the latest advances in weapons, FoxNews.com's new War Games column covers it all.
It's that time of year again -- so what's on the back to school list of the special forces operator in your life?
The Marc Lee "Glory" Knife
The Benchmade 150BKSN Marc Lee "Glory" Knife is the go-to knife for war fighters and civilians alike who want to honor and express their gratitude for the valor, leadership and extraordinary self-sacrifice demonstrated regularly by Marc Lee and his fellow SEALs on behalf of our nation.
The blade features an emblem commemorating the heroism and fearless actions of Petty Officer Second Class Marc Alan Lee, the first Navy SEAL to be killed in Iraq. Designed by Eddie Killian, the 154cm stainless steel re-curve blade has grooved notches on the coyote brown handle for great grip and thumb control.
A portion of proceeds from every knife sold went to the Marc Lee Foundation, but sadly the organization has closed down. Let's hope Benchmade plans to allocate proceeds going forward to other worthy SEAL-related foundations like the Navy SEAL Warrior Foundation -- particularly in light of the recent tragic loss of life of 17 SEAL team members on Aug. 6, 2011.
The LaRue Optimized Battle Rifle
The LaRue 7.62mm OBR rifle with the option of a 16.1-, 18- or 20-inch barrel has a fantastic design -- and hits pretty much everything on the special operators wish list: It's lightweight at 9.25 pounds, has an effective range of 1,100 meters and comes with a slew of top features.
The key standout feature: a different Gas Buster handle that prevents noxious gasses from blowing back in the face when shooting with a suppressor -- and keeping an operator's eyes from burning.
The 7.62 also tackles the problems of barrel interference using a handguard design that doesn't touch the barrel or barrel nut. With this ventilation, it also significantly reduces the heat transfer from the barrel to the handguard. Larue also makes great adaptors like flashlights, lasers and sights for specific missions.
The Gerber All-in-One Tool
It ain't baby food. Every U.S. Army member deploying to Iraq or Afghanistan gets issued a Gerber Multi-Plier 600. Made in America, it's a highly functional gadget that simply makes the war fighter more effective, from adjusting a sight on a weapon and cutting through straps or seatbelts to making small modifications on anything in the field.
The Disposal Explosives Tool is a fantastic choice for demolitions experts. Developed with operators and schools for demolition, it has ten functions including a blasting cap crimper, a pick especially for punching a hole in C4, and a special saw blade to cut through plastics and pipes.
The Bone-Conducting Communication Device
Special Forces operators need to communicate as well as wield the latest and greatest weapons. Atlantic Signal's MH180H is a great low-profile bone conduction headset developed with the SEALs. It allows 360-degree unobstructed auditory situational awareness without obtrusive speaker hardware.
Bone conduction technology, invented and developed first by Atlantic Signal with the FBI Hostage Rescue Team, means receiving radio communication through the facial bones rather than the ear canals. Incoming transmissions are sent to audio transducers in front of the ears that conduct sounds along the facial bones to the inner ear.
This headset can be positioned on either side of the face, so a left or right-handed shooter can have an unobstructed cheek when using a long weapon. It can be customized for special missions with breathing apparatus adapter kits.
The Wearable Computer
"Laptops are for desk jobs," claims Black Diamond. This is true. When a Special Forces operator is trying to defend himself, the last thing he needs is to wait for a PC to boot. Black Diamond's Modular Tactical System (MTS) gives immediate access to critical data and lets him shift from system operation to direct combat in seconds.
Wearable C4ISTAR -- read as "computers" among civilians -- aren't a new concept. Black Diamond's is actually genuinely wearable, however, and reflects the time the company's engineers spent with the community. It's operable in a dust storm and waterproof, and night-vision goggle mode won't betray an operator's position to the enemy with a display light.
Usually special operators have a lot of stuff hanging off them. The very cool cummerbund design allows everything to be hooked into it and avoids the eternal problem of cables breaking from getting repeatedly bent back and forth. It also keeps everything from getting in the way of ammo.
Clothing
No Back to School list would be complete without a nod to the clothing the cool kids will wear.
Arc'teryx is without question the top of the line and absolute best quality for the special operator. Named after the first reptile to develop the feather for flight, it combines unparalleled design with the highest performing material ensuring they are fit for purpose.
And there's good news for civilians: Arc'teryx makes many of the lines available to them, too.
Ballet dancer turned defense specialist Allison Barrie has travelled around the world covering the military, terrorism, weapons advancements and life on the front line.