Super yacht designed by Apple's Steve Jobs unveiled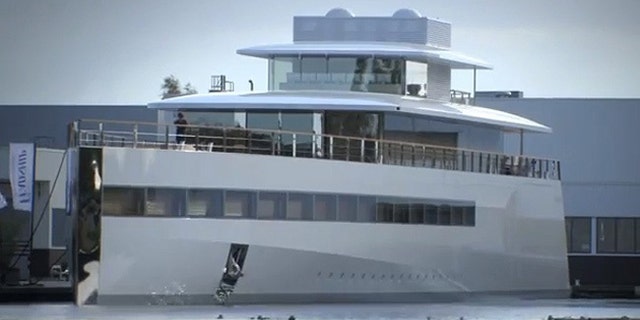 A year after his death, the family of Apple founder Steve Jobs have helped launch the super yacht the late technocrat designed in the Netherlands.
Jobs reportedly spent years designing the 250-foot yacht called Venus which is steered from the control room or wheelhouse by a group of 27-inch iMacs, according to Business Insider.
The light-weight yacht -- named after the Roman goddess of love and beauty -- is 80 meters long and its sleek design with a line of large square windows and the minimalist sun deck would be familiar to Apple fans.
The ship's main windows were designed using a special glass that Apple stores designers made to support the structure.
With an aluminum hull and exterior as well as its own speed boat, the ship is thought to be both lighter and faster than your average yacht.
French designer Philippe Starck helped Jobs create the sleek interior which features a jacuzzi and ten-foot high window panels for the cabins which are forty feet long, according to Jobs' biographer Walter Isaacson.
Those who worked on the ship each received an iPod shuffle with the ship's name engraved on the back as well as a thank-you note from the Jobs family for their "hardwork and craftsmanship", The Verge reports.
Get more tech news and reviews at News.com.au.