San Francisco bartender gets visit from Google 'secret police' for possessing prototype smartphone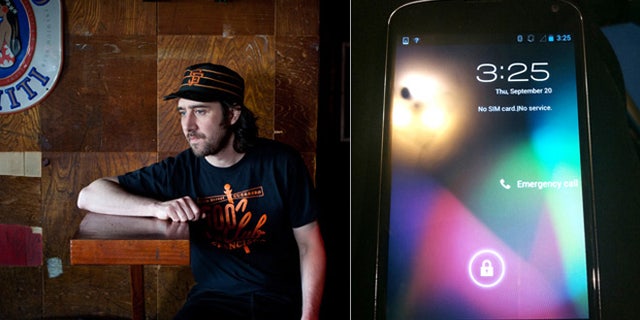 A bartender in San Francisco found he had unwittingly crossed paths with Google after one of the search giant's employees left a prototype smartphone at his bar.
Jamin Barton, who is affectionately known as "Sudsy" by patrons of the 500 Club in San Francisco's mission district,told Wired that he was closing up after a slow evening last month when he found a yet-to-be released Nexus 4 Android phone.
"We find about 20 [phones] a week," he said to the magazine. "Most people come back for them in 15 minutes."
The phone was locked and without a SIM card, making Barton unable to locate the owner. He showed the device to a regular customer from the tech industry that immediately identified the phone as being the upcoming Nexus 4. The customer reached out to Google HQ for Sudsy.
The following day Barton heard back from the patron who sounded shaken up after his dealings with Google.
"Dave sort of freaked out. [He said] 'Google lost a phone. You just got a guy fired…The Google police are coming,'" Barton recalled to the tech magazine.
"I probably shouldn't have shown it to him. But I did. He didn't work for Google, but Google had him pretty worked up. They told him he could be an accessory or something."
On the evening of September 20, Google sent their global investigations and intelligence manager to Barton's bar to retrieve the phone. But the bartender tells Wired that he had already agreed to give the phone back to Google the next day as long as the person picking it up could prove that they worked for Google.
"What was I supposed to do, look for the guy with Google shirt? How did I know this guy didn't work for Apple," Barton told Wired, adding that he felt he was being harassed and left the bar that night which led the google officer on a wild goose chase through the Mission District.
Sudsy eventually gave the phone to the Google executive, but only after he was able to confirm his identity.
Barton was then offered a free phone, provided he did not go to the media and speak about the incident, instead he was paid a freelance fee for providing photos of the Nexus 4 to Wired.
Speculation about LG's new Nexus 4 is that it boasts a 1,280 × 768 display, quad-core Qualcomm Snapdragon S4 CPU, an 8-megapixel rear camera and new Android operating system.
Announcement of the new phone was expected to be held in New York on Monday but was cancelled in anticipation of Hurricane Sandy.