SHOT 2018: 4 new guns for powerful home defense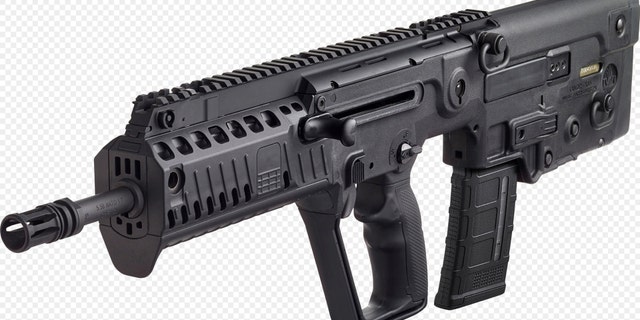 Home defense is on the minds of a lot of Americans these days. Shotguns and handguns are two of the most popular solutions to protect loved ones at home from an attack.
Companies large and small unveiled new options for 2018 at SHOT Show. While shotguns deliver strong stopping power and even the sight of them can deter those who would wish your family harm, handguns can offer advantages such as small size, easy maneuverability and more rounds to protect your loved ones with if necessary.
If you are going to invest in a new firearm for home defense, then it is even better when that weapon can be used for another purpose like hunting or personal defense concealed carry.
For 2018, here are four exciting new options in home defense shotguns and pistols from IWI, Kimber, Smith & Wesson and Mossberg.
IWI Tavor TS12 Bullpup Shotgun
The new IWI TS12 Bullpup Shotgun has a heck of a lot of wow factor. This is one weapon that would not look out of place in a Star Wars flick. This year it has been one of the biggest hits at SHOW Show, not just because of its unique, futuristic looks – but because this weapon also delivers.
In terms of self-defense, it has a lot of vital features. The TS12 is easy to use with an IWI "Bullhead" bolt-locking system, it is easy to maintain and thanks to its compactness and design would be easier to maneuver inside the home than many competitors.
SHOT 2018: 8 NEW TACTICAL GUNS REVEALED
The overall length of the shotgun is 28.34 inches with an 18.5-inch barrel. Unloaded, the Tavor TS12 weighs 8 pounds.
Another major advantage? A large magazine capacity totaling 15 which gives you that extra sense of security for home defense knowing you have those extra rounds. The shotgun is designed with a system that rotates three tubes holding five rounds each.
The shotgun uses a specially designed gas-regulated, semi-automatic action.
Beyond protecting the home, it would also be a great, fun sporting option.
The suggested retail price is $1,399.
PODCAST: HOT AT SHOT – JOIN THIS RECON MARINE FOR A GUIDED TOUR INSIDE EPIC SHOT SHOW OF THE HOTTEST NEW GUNS, GEAR, CROSSBOWS, AMMO + MORE
Kimber - Hero Custom 1911
Handguns are a smart choice for home defense. For women, pistols have been an increasingly popular option for personal defense and home defense. Some families find pistols easier to keep secure and to keep out of sight of both children and perpetrators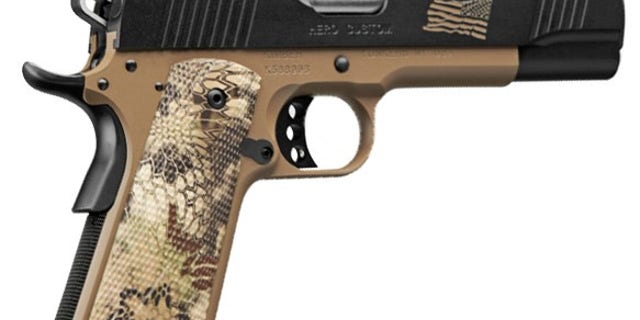 SHOT 2018: 5 OF THE BEST NEW CONCEALED CARRY WEAPONS
Kimber remains one of the very best companies in this space. Every year, they deliver a wide crop of pistols, with excellent craftsmanship, many of which are ideal for concealed carry self-defense and home defense.
New for this year is the Hero Custom 1911 chambered in .45 ACP with a 7-round magazine capacity. This model is 8.7 inches long and 1.28 inches wide. Unloaded, it weighs 38 ounces.
In terms of sights to support stopping an attack, there are green and red fiber optic sights. One of Kimber's hallmarks is beautifully designed weapons that can look and feel more accessible and comfortable for first-time buyers. Kimber's micros are often a great solution for mothers, for example, who are first time users and want something beginner friendly.
The Hero Custom has a real "hero" sort of look to it. The pistol features Kryptek Hilander grips, a KimPro II desert tan frame and an engraved slide.
And for patriots this is a win all round since proceeds from the Hero Custom go to the Boot Campaign, a great charity that supports the U.S. military, veterans and their families.
Suggested retail price is $987.
PODCAST: INSIDE EXTREME FIREFIGHTS WITH THIS BRAVE SPECIAL OPERATIONS PRO
Smith & Wesson - M&P Shield 2.0
The new, striker-fired M&P Shield 2.0 was another popular reveal at SHOT Show. If you are in a position where you are defending the lives of your loved ones in your home, you don't want the weapon to fall short on stopping power.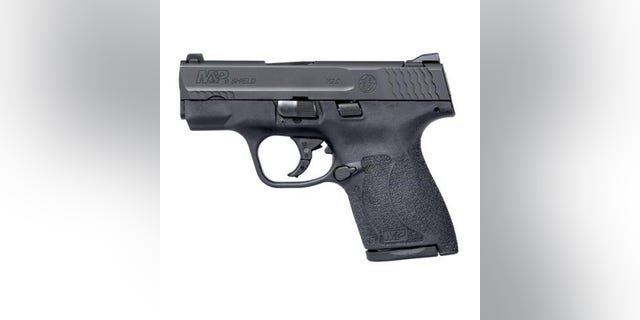 One of Smith & Wesson's goals was to take the power of their full-sized pistols and put that into a more compact, lightweight option.
SHOT 2018: THE GREATEST GUN SHOW ON EARTH
This new pistol is a great solution for combining two purposes in one: concealed carry during the day for self-defense and stowed in the safe by your bed ready to stop an intruder. It comes with two magazines: one 7-round and one 8-round extended grip.
Fans will love the new trigger. The new M&P M2.0 will definitely give the user a crisp trigger. For those who prefer a lighter trigger pull, this pistol is designed to deliver just that.
Always great for enhanced safety, this pistol disassembles without pulling the trigger.
The M&P Shield 2.0 weighs in at 18.3 ounces and is 6.1 inches long with a 3.1-inch barrel. Sight options include white-dot sights, tritium night sights and integrated Crimson Trace laser sight.
Available in both 9mm and .40 S&W, the suggested retail price starts at $479.
Mossberg – 590 Shockwave – "Just in Case"
Mossberg's 590 Shockwave shotgun was favorite at SHOW Show last year. And this year Mossberg ramped things up with a new 20-gauge 590 Shockwave option and a flat dark earth Cerakote finish.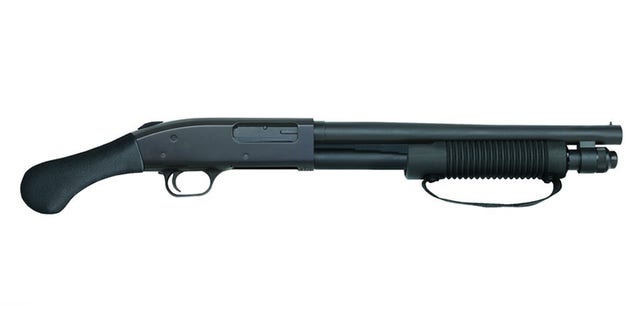 Bound to be a breakaway hit this year too, a 12 gauge "JIC" (Just in Case) option that comes with a water-resistant tube you can use to both carry and store it.
SPECIAL OPERATIONS DOGS SET FOR NEW ADVANCED TACTICAL GEAR
The 590 Shockwave is a short-barreled, pump-action shotgun. It incorporates that easy to use, signature Mossberg bird of prey's-head grip.
But the grip design provides more than just ease of use. Made of highly durable polymer, the Shockwave "Raptor" bird's head pistol grip also helps reduces the amount of recoil the shooter will feel and provides a secure grip.
The shotgun has a 14-inch barrel, a lot of capacity and an ambidextrous top-mounted safety. Depending on the gauge the weight varies, but, for example, the 12 gauge weighs 5.3 pounds.
Admin like special approvals, tax stamps etc can be very laborious. Good news on that front with the Shockwave. State laws can vary, so definitely verify the local situation with state police first, but the Bureau of Alcohol, Tobacco, Firearms & Explosives has classified 590 Shockwave as a "firearm" per the Gun Control Act (GCA) and not a Class 3/NFA firearm.
The suggested retail is $455.