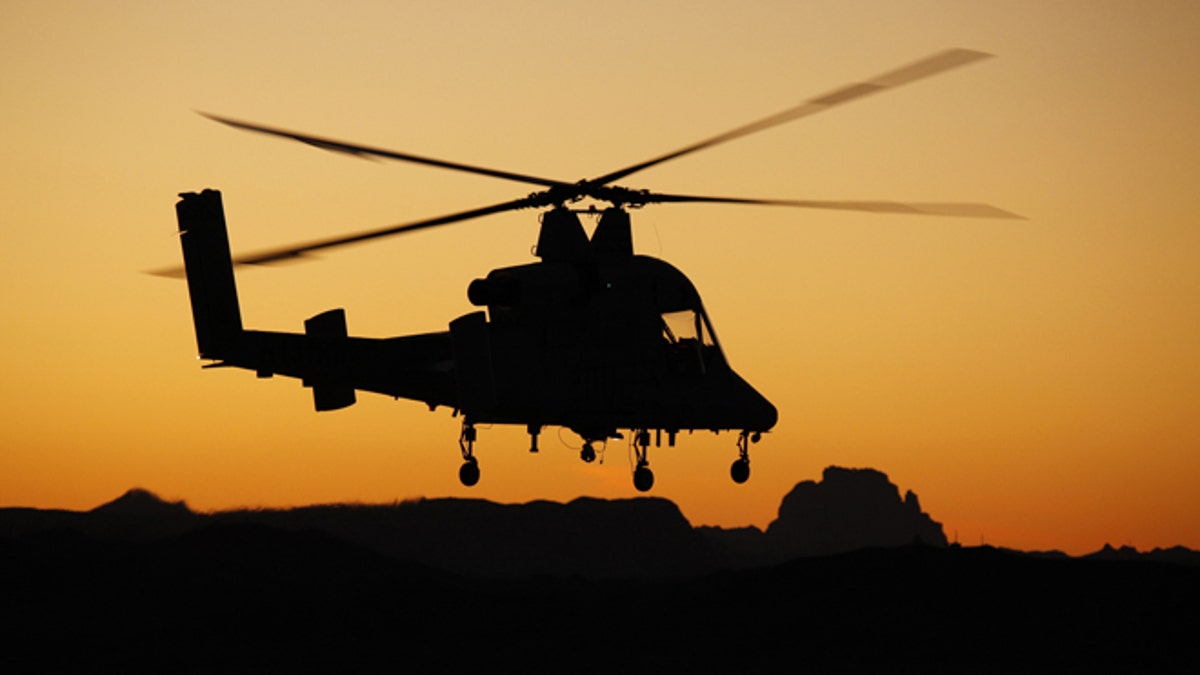 A robotic helicopter has been quietly busy resupplying Marines on the battlefield and in remote locations in Afghanistan.
Truck re-supply convoys and their military escorts are frequently the target of improvised explosive devises and insurgent attacks; by replacing the traditional truck convoy, the unmanned K-MAX has already reduced the risk to U.S. forces by thousands of hours.
K-MAX's airdrops provide a safe, low-cost supply delivery method to get important medical equipment and food to troops. On Dec. 17, 2011, K-MAX became the first unmanned helicopter to fly a resupply mission, delivering approximately 3,500 pounds of cargo to Afghanistan.
With American towns and states scrambling to ban them, a new base planned for Africa, and debate over how President Obama can use them to eliminate terrorists, some wonder whether drones should be operated at all.
K-MAX is one reason to rethink such sweeping generalizations.
Since its debut in the war zones, the two autonomous K-MAX helicopters in use have flown more than 600 missions over 700 flight hours, and delivered more than 2 million pounds of cargo.
The unmanned helicopter is the result of a partnership between Kaman Corp. and Lockheed Martin, combining Kaman's high-altitude, rugged, heavy-lift K-1200 airframe with Lockheed Martin's mission management and control systems.
While it supports a pilot, K-MAX can fly by itself day or night and at higher altitudes with a larger payload than any other rotary wing unmanned craft, according to Lockheed Martin.
With its four-hook carousel, K-MAX can supply multiple locations in one flight and handle as much as 4,500 pounds of cargo per mission.
The sleek looking unmanned helicopter features a design emphasizing simplicity, dropping a tail rotor to alleviate stress to the frame. The 52-foot long helicopter travels at a top speed of about 115 miles per hour, with a 48-foot wingspan.
KMAX has a number of other firsts, including the largest payload airdropped via sling load from a helicopter (4,400 pounds!) and the highest altitude flown, at 10,000 feet.
In May of last year, the aircraft performed a historic "hot hook-up," enabling personnel to attach cargo to the unmanned aircraft while in hover mode.
The hot hook-up continues to be regularly used to give K-MAX cargo to carry on the return flight, further increasing its efficiency.
Slated to remain in theater through March 2013, K-MAX's deployment has been extended twice so far, with an option to extend deployment until September.
K-MAX's performance has impressed more than the US forces as several NATO allies also have expressed interest in the unmanned helicopter.
What's next for K-MAX?
Lockheed Martin has been charged to develop a "supervised autonomy" ability, which may let the aircraft land in wind, weather and brown-out conditions – even surpassing the capability of human pilots.
The company has dubbed this initiative OPTIMUS, as in Open-Architecture Planning and Trajectory Intelligence for Managing Unmanned Systems -- not a reference to Transformer Optimus Prime.
OPTIMUS will give KMAX the ability to control itself while a human maintains supervisory control. This approach also has potential for giving other unmanned aircraft this capability and not just K-MAX.
In the civilian space, K-MAX also has a range of applications from helicopter logging and power line construction to ski-lift installations and even remote construction sites.
KMAX has enormous potential for emergency response missions too, ranging from firefighting and disaster relief to search and rescue.
Ballet dancer turned defense specialist Allison Barrie has traveled around the world covering the military, terrorism, weapons advancements and life on the front line. You can reach her at wargames@foxnews.com or follow her on Twitter @Allison_Barrie.