Real-deal robocop spotted patrolling streets of NYC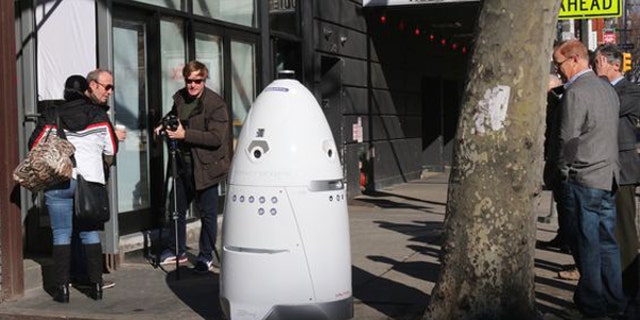 Robocop has nothing on this latest piece of tech.
An R2-D2 style crime-detecting robot was seen patrolling the streets of New York City on Thursday, drawing the attention of curious pedestrians.
The Knightscope robot comes equipped with sensors that detect "concerns or threats in its vicinity and alert authorities according to DNAinfo New York.
CHESS-PLAYING ROBOT AT CES LEARNS FROM EXPERIENCE
The machine's designer, which is reportedly meeing with investors and clients, has set up shop near Marquee Nightclub on 10th Avenue in Manhattan.
The robots can capture and send video to a security network as well as detect sounds like glass breaking, according to TechCrunch.
"It's a security robot," Stacy Dean Stephens, vice president of marketing and sales for Knightscope explained. "It's meant to augment the way that security guards actually do their work."
THIS GIANT MANNED ROBOT MIGHT PATROL THE NORTH KOREAN BORDER
The company's team was shooting video of the robot on the sidewalk, which it plans to use to "engage investors," he told DNAinfo New York.
"[People] want to know what it is, they want to understand what its capabilities are, and most everybody who sees it is quite thrilled to see it, I think," he said.
"We all grew up in this age of people saying we're going to have robots running around someday, and now we're actually living it."
Click here for more from DNAinfo New York.