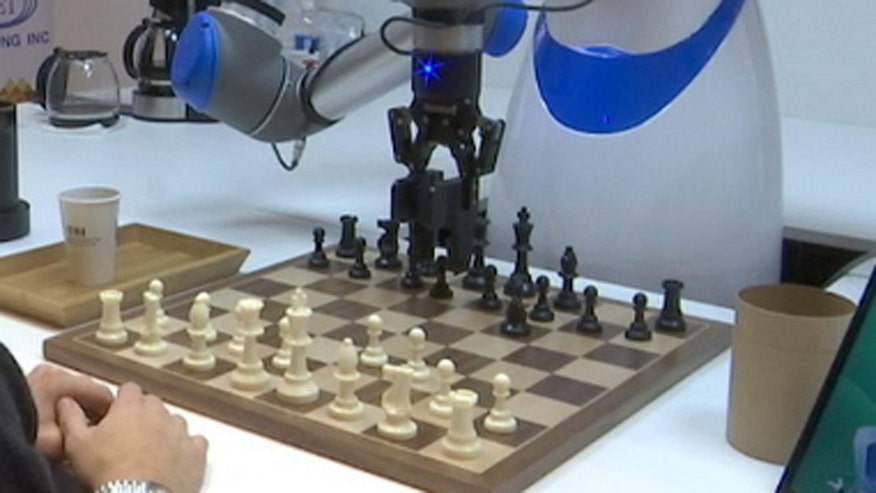 Robots that learn from experience and smart, autonomous drones are quickly moving from science fiction to reality and are on display at CES in Las Vegas. The Industrial Technology Research Institute (ITRI), based out of Taiwan, is showcasing these two technologies that could one day help robots take over the world.
The first is ITRI's Intelligent Vision System, which allows robots to interpret the visual world, act on visual information, and learn from experience. That's right, learn.
Here are the best pictures from CES 2017.
Many robots are programmed to perform a task repeatedly at a specific time and location. In other words, they don't learn— they just do. The Intelligent Vision System allows the robots to adapt to their conditions.
THE 10 BEST LAPTOPS, DRONES, AND OTHER GADGETS FROM CES 2017
ITRI's robots at the Consumer Electronics Show play chess and learn as they play. The robot will study what its opponent is doing and try to win based on what it knows. But with every passing game it will know just a little bit more, and will continuously improve based on experience, just like a human does.
"We have machine learning embedded in this software so they can learn from each practice and each action," said Dr. Ming-Jer Kao, deputy general director of ITRI's Electronic and Optoelectronic System Research Laboratories.
The chess match, along with a robotic demonstration of filling coffee cups, is also a showcase of the robot's Smart Grip Technology. The robot will show its ability to interact with objects while avoiding collisions with others, all based on perception.
TOM BRADY AND UNDER ARMOUR UNVEIL HIGH-TECH PAJAMAS
"I think the most important thing behind this is what we call hand-eye coordination…all this makes our robot separate from all the others. It can not only provide information, it can also do actions to help people," said Kao.
ITRI is also showcasing its Remotely-Operated Autonomous Drone, or ROAD for short. The ROAD can be operated remotely and intercontinentally using LTE. The system is also smart, so it knows to fly away from areas without LTE cell service.
The drones can be controlled intercontinentally, so while ITRI is based in Taiwan, they can control a drone almost anywhere in the world. This is mainly possible because the drone uses a cellphone signal.
GLIMPSE INTO THE FUTURE AT CES 2017

"If there is no signal the drone will try to come back from the Launchpad and get back to signal. It's powered by a cell phone signal," explained Tsung-Hsien Chen, a manager at ITRI.
ROAD can also operate one month on its own using an autonomous recharging system. The drone also has a special power cell, so while many commercial drones only last a half hour, drones on the power cell can last over an hour.
So what does the future look like for these technologies? Kao believes the robots will have a big impact on manufacturing, but won't necessarily take away jobs from humans. He also explained how the robot could be beneficial to humans.
WHY SHOULD YOU CARE ABOUT CES?
"With our plan, this type of robot can not only be used in manufacturing, it can be used in health care, especially for elderly people," Kao said.
As for the drones, while they currently can be controlled with a computer, the company hopes to control them with a cellphone one day. Chen said they currently could control five drones on their system, but this year they want to get that up to at least 10 to 20 drones.
Andrew Craft is a Fox News multimedia reporter based in Las Vegas, Nevada . Follow him on twitter: @AndrewCraft