On the run, John McAfee dons disguises, hunts for killer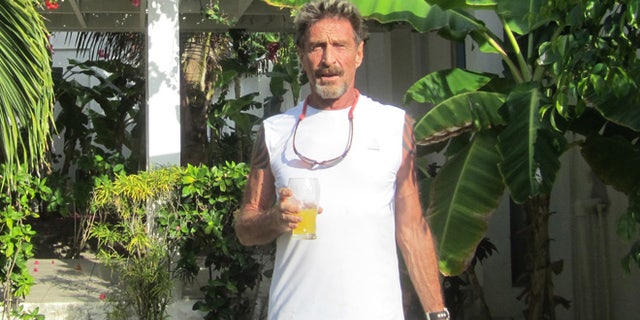 For a man in hiding, John McAfee is awfully visible.
McAfee, an antivirus mogul, megamillionaire and person of interest in the murder of U.S. citizen Gregory Faull, has been on the run for well over a week on the small island of Ambergris Caye in Belize. "No updates" Belize police spokesman Raphael Martinez told FoxNews.com Tuesday.
Meanwhile, McAfee has become an unexpectedly outspoken fugitive.
[pullquote]
According to a series of posts on his newly created blog WhoIsMcAfee?, the man wanted for the murder of American expatriate Gregory Faull has offered a $25,000 reward for information leading to the real killer's capture. He's also been all over the island in disguise, he claims -- hiding in plain sight.
"The first day I colored my full beard and my hair light grey -- almost white," he wrote in a Monday post titled Watchfulness. "I darkened the skin of my face, neck and hands carefully with shoe polish and put on an L.A. Saints baseball cap with the brim facing backwards and tufts of the front of my hair sticking out unkempt through the band."
I stuffed my cheeks with chewed bubble gum stuck to the outside of my upper and lower molars -- making my face appear much fatter."
The getup is necessary so he can, as he claims, do his own detective work. McAfee maintains his innocence and fears for his life if he's ever apprehended by the authorities.
"I needed to be close to the area where the events occurred and needed to watch, and hear, the actions of the authorities," he wrote Monday. "I also needed to do my own investigation, since the police only seemed to be investigating my whereabouts. My safety is contingent on the truth being discovered."
[sidebar]
Despite telling ABC News that the fugitive life is "extremely exhausting," McAfee appears to be enjoying his newfound attention. Beyond describing his current situation, McAfee has taken to writing about the various women in his life, from the 17-year-old Amy to his current fling Samantha who helps him with his laundry. "I have pre-written enough material to keep this blog alive for at least a year," he wrote recently.
McAfee, whose very name is synonymous with security, is a prime suspect in the murder of American expatriate Gregory Faull, a well-liked builder from Florida who was shot at his home in San Pedro Town on the island of Ambergris Caye.
The 52-year-old Faull was found by the housekeeper on the morning of Sunday, Nov. 11, lying face up in a pool of blood with an apparent gunshot wound on the upper rear part of his head, according to a police report.
McAfee's life has turned in recent years from cybersecurity to drugs, guns, prostitution and violence, explained Jeff Wise, a freelance reporter who broke the story for Gizmodo. "He will tell you he moved to Belize for the good life, for the country, to rescue the Belizean people from poverty," Wise told FoxNews.com. In reality, McAfee became embroiled in bath salts and the quest for the ultimate high, he said.