Navy launching 'NeRD' e-reader that's low on features, but filled with content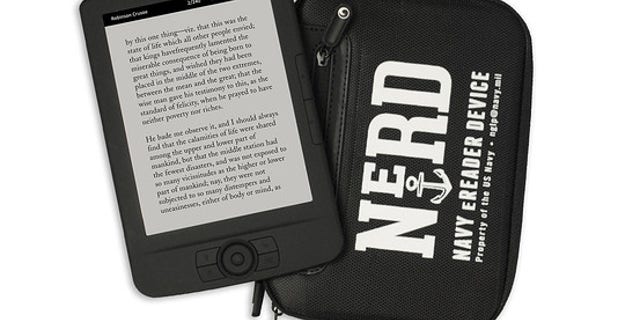 Hoping to get around security issues and space constraints onboard U.S. military ships, the Navy is launching its own e-reading device, but not with the latest technology you'd come to expect.
The Navy eReader Device, dubbed NeRD, comes pre-loaded with 300 books. However, sailors and officers won't be able to buy any more and the device has no ports, no card readers and no Wi-Fi connection capabilities.
NeRD is designed without these features to protect against possible hacker attacks, according to The Wall Street Journal.
The device contains new bestsellers and public domain classics, ranging from "A Game of Thrones" to "The Lord of the Rings" series, and works from the Navy's reading list to help crews with professional development.
The Navy is making 365 devices to start, The Verge reports.
NeRD was developed from a partnership between the Navy General Library Program (NGLP)and Findaway World, an Ohio-based firm that specializes in delivering audiobook and e-book content to devices.
"Navy Installations Command is constantly seeking to provide our proud Sailors around the world with new tools and resources that can enrich their lives," Nellie Moffitt, Navy General Library Program manager, said in a statement. "NeRD addresses this goal head-on, with a library of digital titles in a convenient and secure package that circumvents longstanding NGLP challenges in content storage."
NeRD will not be available to civilians.