Microsoft 'rape' joke at E3 gaming event sparks outrage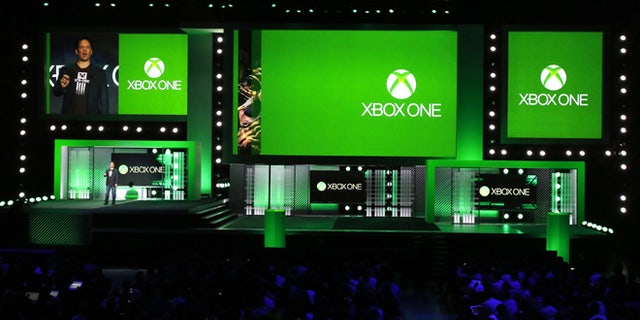 NEWYou can now listen to Fox News articles!
Microsoft has come under fire after a male employee made what many are calling a rape joke during a live demonstration of a video game at the popular gaming conference Electronic Entertainment Expo (E3).
In the already male-dominated world of gaming, people turned on Microsoft after the suggestive comment was caught on camera.
The comments came during a demonstration of the video game "Killer Instinct," as a female employee engaged in a virtual battle with a male colleague. "I can't even block correctly, and you're too fast," the female employee said. "Here we go. Just let it happen. It'll be over soon," was the response.
The audience laughed at the comment, but many have interpreted it as a rape joke.
The conversation continued, laced with sexual innuendo.
"You have a fight stick," she said. "Wow, you like those." he responded. "No, I don't like this," she countered.
The uncomfortable exchanged prompted Microsoft Studios corporate vice president Phil Spencer to issue the following statement.
"Yesterday, during the Xbox E3 briefing, one of our employees made an off the cuff and inappropriate comment while demoing 'Killer Instinct' with another employee," he said. "This comment was offensive and we apologize."
"At Microsoft, being open and respectful with others is central to our code of conduct and our values. Bullying and harassment of any kind is not condoned and is taken very seriously. We remain committed to make gaming fun for everyone, and in that effort, we must lead by example."
But the damage was already done.
People quickly took to Twitter to express their disappointment with Microsoft's response to the comments made at their event.
One user, @stillgrey, tweeted, "Even if it was unintentional, Microsoft should've realized they shouldn't make a rape joke in an environment already toxic with misogyny."
This is not the first controversy surrounding rape to take place at the E3 conference. Last year, gamers were upset over a scene in the video game "Tomb Raider," which required players to save Lara Croft from sexual assault.
Although 47 percent of gamers are female according to a report by the Entertainment Software Association, sexism is still a prevalent issue in the gaming world.
A female gaming journalist wrote about her experience with sexism in the industry after comments about her appearance and clothes almost drove her to quit her job.
"People would comment disrespectfully about my choice of clothing, but if I complained, they'd call me a bitch or ask if I was 'on my period'," she wrote. "I've seriously reconsidered my career choices over comments like these because, honestly, if I was getting comments like this in any other workplace, I'd leave."
Microsoft announced hundreds of new games to be released this year for the aging Xbox 360 platform at the E3 conference, including the highly anticipated title "Grand Theft Auto V."