Laser technology lights up Fourth of July skies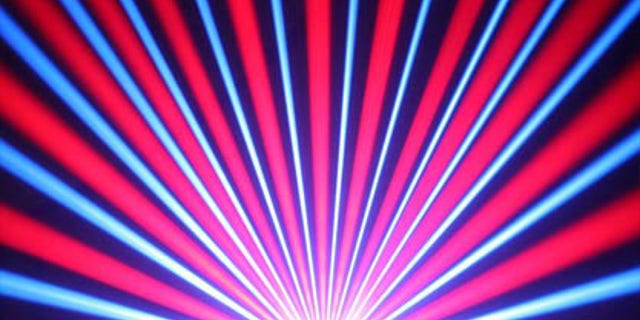 Spectacular firework displays may be part and parcel of the Fourth of July for most Americans, but there are communities who will be turning to a high-tech alternative for their celebration this Independence Day.
With traditional pyrotechnics banned in many rural areas at risk of wildfire, laser displays are offering a safe yet entertaining way to celebrate America's independence.
One area where fireworks are banned is Tuolumne County near Yosemite National Park in Northern California, where the Christian Heights Church will host a laser light show on Friday. "It's an alternative to fireworks," explained Daryl Sarina, the church's business administrator and special events coordinator, in a phone interview with FoxNews.com. "People are excited about it – it has been something like three years since we did the laser light show."
The church is bringing in a laser expert from Washington State who will shoot laser beams onto a 40-feet by 60-feet mesh screen placed on its athletic field. "He does a choreographed laser lightshow to music on the screen," said Sarina. "He's doing front and rear projection – they have smoke machines and the whole nine yards."
FULL COVERAGE: PROUD AMERICANS
Companies that specialize in laser displays say that there's plenty of demand for their technology from rural communities. "We get calls all the time from places that have droughts or fire hazards where they cannot do fireworks," Robert Teorey, president of New York City-based Laser Shows Inc. told FoxNews.com. "We're friendly for the environment, we're green technology – it's very self-contained and hassle free."
Laser Shows Inc. performs two main types of display – aerial beam, where the laser light is seen in mid-air, and graphic, where the laser is projected onto a screen, wall or other surface. The company, which provides its technology for massive events such as the Electric Daisy Carnival music festival, says that the most spectacular effect is achieved by used by using aerial beams and graphics simultaneously.
Seattle-based Laser Fantasy told FoxNews.com that it will be providing equipment, personnel and technical support to multiple shows this Fourth of July. "Over the last 25 years we have entertained millions of people with 4th of July laser shows, typically to augment the fireworks, but sometimes as a replacement when burn bans or air pollution controls are in place," Alex Hay, Laser Fantasy's director of engineering, told FoxNews.com. "Although different to a traditional firework show, people have found it to be entertaining."
Lasers are used regularly as part of a display at the Crazy Horse Memorial in Crazy Horse, South Dakota. Beginning at dark each evening during summer and fall, lasers are projected on the 500 by 600-foot mountain carving, telling the story of the Native American. The performance ends with the stars and stripes projected onto the mountain and a stirring rendition of "God Bless the USA."
Laser, which stands for Light Amplification by the Stimulated Emission of Radiation, has its roots in Albert Einstein's 1917 paper 'On the Quantum Theory of Radiation.' The technology is now used in a host of applications, from military to healthcare and retail.
Follow James Rogers on Twitter @jamesjrogers