iPhone 7s and 7s Plus may be less advanced than the iPhone 8, but they may have a lower price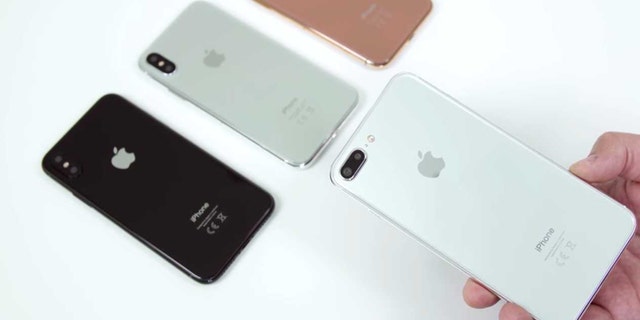 Every other year, Apple traditionally offers iPhone models that focus on internal improvements like battery life, processor and camera, known as a "tick-tock" schedule.
Along these lines, the iPhone 7s and 7s Plus are expected to be physically similar to the current iPhone 7 and 7 Plus. But don't fret: upgrades are coming to these iPhones as well.
"With the iPhone 8 rumors heating up, we're…neglecting the two other phones we're going to get," said Danny Winget in a video, showing a "7s Plus prototype."
IPHONE 8 NOTE DELAYED AFTER ALL, COMING IN THESE COLORS
Winget has been cited by Apple enthusiast blogs and has a popular YouTube channel that covers products from Apple, Google and Microsoft.
The iPhone 7s Plus phone prototype that Winget shows in the video looks like the existing iPhone 7 Plus, but it adds a glass back, with Winget noting that's "probably because wireless charging is coming to the new iPhones."
The prototype also shows new stainless steel sides and less prominent antenna lines at the top of the phone.
But that's about it as far as major external differences with the existing iPhone 7 Plus. Internally, the iPhone 7s Plus may also get a processor upgrade and upgrades to other internal electronics.

IPHONE 8 RUMORS SWIRL AHEAD OF EAGERLY-ANTICIPATED LAUNCH
It ain't the iPhone 8 but that means a lower price

"I'm sure all of the cutting-edge tech will be on the iPhone 8," Winget adds in the video, including features including edge-to-edge display and additional sensors for new features, such as facial recognition.
But that means both the iPhone 7s and iPhone 7s Plus should be hundreds of dollars less than the radically-redesigned iPhone 8.
The iPhone 8 is expected to be produced in limited numbers – a shortage that could last for months – while the 7s and 7s Plus should be widely available out of the gate.
Pricing speculation indicates price points will be similar to the current iPhone 7 and iPhone 7 Plus, which are priced at $649 and $769, respectively.