IBM touts Watson supercomputer to speed up scientific breakthroughs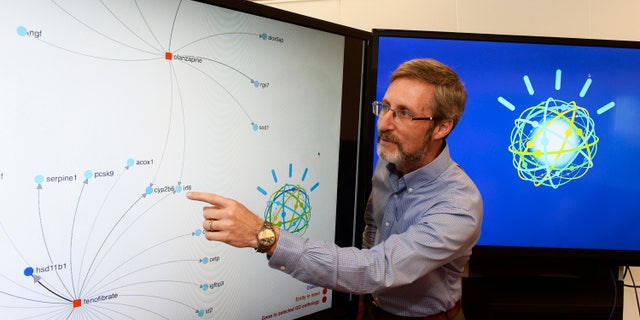 IBM has enhanced its Watson supercomputer, famous for its appearance on the quiz show "Jeopardy," in an attempt to speed up the pace of scientific breakthroughs.
This week IBM unveiled its Watson Discovery Advisor, which understands the sophisticated language of science, such as how chemical compounds interact, and is being touted as a way for scientists to accelerate their research and development.
"Watson has moved to helping researchers investigate the great unknown problems of our time," John Gordon, vice president of IBM's Watson Group, told FoxNews.com. "This whole space around Watson and technology is trying to push forward innovations."
IBM says that the Discovery Advisor can slash the time scientists need to test hypotheses and formulate conclusions from months to days and from days to hours.
A number of organizations, such as Baylor College of Medicine, Johnson & Johnson, and The New York Genome Center, are already using the cloud-based Discovery Advisor to support their research. Baylor College of Medicine, for example, is using the Discovery Advisor to speed its understanding of the biology of diseases while Johnson & Johnson is using it to teach Watson to read and understand scientific papers on clinical trial outcomes.
"We believe that Watson can accelerate the time to value, how fast the discourses come forward, and the probability of success of investigations," said Gordon.
The IBM executive added that the Discovery Advisor's ability to make new connections in data could be applied to a host of other sectors. "We see it moving beyond life sciences into areas like financial services, energy, and legal," he said. "Watson could help present a chef with connections between flavors that would work together - I think that there's lots of industries where you're going to see this, where you have to connect the dots together."
Watson's ability to trawl vast troves of data has already been targeted at the healthcare sector via partnerships with insurance firm WellPoint and New York's famous Memorial Sloan Kettering Cancer Care Center. Earlier this year IBM announced an investment of more than $1 billion in its Watson Group in an attempt to boost development of cloud-based applications and services.
The supercomputer is also being used to help military personnel make the transition back to civilian life. Watson has analyzed and understands more than 3,000 documents on "military transitions," according to IBM, and can answer questions on a host of topics from job searching to home purchases and military benefits.
Follow James Rogers on Twitter @jamesjrogers