Google competitor emerges as worries about bias grow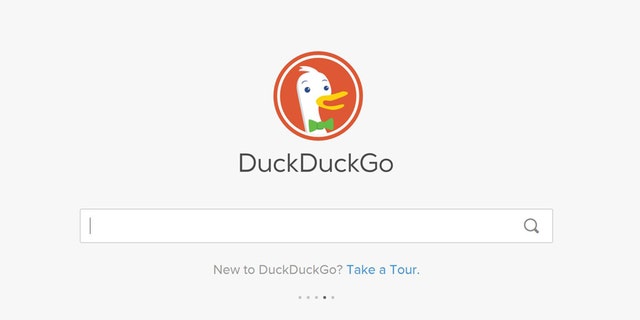 An alternative search engine is seeing growth as Google faces questions about its practices and alleged bias against conservatives.
Google dominates search with only few viable alternatives in the field. But in the last few years, Paoli, Pa.-based DuckDuckGo has been gaining as a search engine, one that is built around anonymity, according to Search Engine Watch.
"We provide you with everything you expect from Google without collecting your search history, or using it for targeted advertising," Gabriel Weinberg, CEO & Founder, DuckDuckGo, told Fox News in an email.
FEDS MIGHT INVESTIGATE GOOGLE OVER ANDROID OPERATING SYSTEM
"DuckDuckGo is a good search engine if you value privacy," Paul Bischoff, a privacy advocate at Comparitech, a company that reviews and compares consumer tech products, told Fox News.
"It does not record any identifying information that is tied to your search queries," Bischoff added.
Web users seem to be recognizing this. DuckDuckGo has seen query traffic spike over the last few years, jumping from about 5 million per day in 2015 to close to 30 million in early October 2018, according to figures provided on DuckDuckGo's website.
That pales in comparison to Google, which typically handles many billions of queries per day, but the point is anonymity.
That doesn't mean there aren't tradeoffs, though.
"Google's popularity means it has more data to put through its search algorithm, meaning more refined and relevant results in most cases," Comparitech's Bischoff said.
"Additionally, because Google does record identifying information and search queries, it can personalize results according to the user's preferences and history," he added.
HOW TO BEAT GOOGLE'S PERSONALIZED ADS
Google's practices in question
Google's overwhelming dominance has become a problem, prompting CEO Sundar Pichai to agree to testify before the House Judiciary Committee in November. Pichai recently met with GOP lawmakers in what was described as a "positive" meeting.
One of the most pressing issues is the claim that Google search results are biased against conservatives – a claim that Google has repeatedly denied. The company has also come under pressure from employees and human rights groups to abandon a project that would see it launch a censored search engine in China.
Google has not yet responded to a request for comment from Fox News for this story.
"We believe that if given the explicit choice, a significant amount of people would choose DuckDuckGo as a non-tracking search engine alternative that also does not put people in a 'filter bubble' by biasing results based on their search history," DuckDuckGo's Weinberg said.
To be sure, there's a thirst out there for alternatives to Google. "Whether Google will admit to its own bias is hardly the point. Conservatives know the answer. Google has incredible disdain for conservatives and their belief system," Justin Danhof, General Counsel, National Center for Public Policy Research, a conservative-leaning think tank, told Fox News in an email.
"It's a long time coming, but the free market system can and will provide alternatives that offer conservative thought a fair and equal playing field," Danhof added.
In a recent study, Comparitech showed no evidence of President Trump's claim that Google Search is biased against him, despite the fact that most top search results are negative toward him.
'We surmise this is at least partially due to the fact that negative news is more often linked to by other sites on the web than positive news," Comparitech's Bischoff said.
Fox News' Chris Ciaccia and James Rogers contributed to this report.