Futuristic mini-sub could be a valuable weapon for Navy SEALs
A new, remarkable underwater vehicle – sort of like a miniature submarine, is on deck. Designed for stealthy military missions, the sub may be smaller than a giant Virginia-class submarine, but it sure has massive combat potential.
The Proteus, made by Huntington Ingalls and Batelle, could be described as a hybrid of an underwater vehicle and a drone.
As an underwater vehicle, Proteus is designed for forces that need to covertly penetrate enemy territory using water. For the U.S. military, Navy SEALs and other teams are highly trained for missions involving water. The Proteus can provide a ride to target for 6 combat divers at one time.
About 25 feet long and five feet wide, things can get ultra-cozy – but Proteus is nonetheless spacious compared to a number of underwater delivery vehicles on the market.
SOFIC 2018: AMAZING SPECIAL OPERATIONS VEHICLES, WEAPONS AND MORE ON SHOW
In the future, there may be potential for submersibles like Proteus to be used offensively by the Navy too. If Proteus was eventually equipped with weapons, then just like dogfights with aircraft in the air, SEALs could fire off weapons in underwater battles.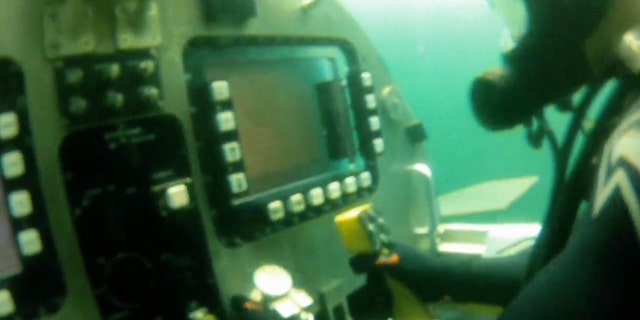 As an insertion vehicle, Proteus is amazing. But interestingly, that is not all Proteus can do.
Underwater vehicle that drives itself
Proteus is also incredibly smart. It can switch seamlessly from being driven as a vehicle to driving itself and running its own missions. Here's a hypothetical example for future potential: a team of Navy SEALs needs to covertly insert into a hostile territory via an enemy coastline to destroy a chemical weapons cache before it can be used on U.S. ground troops.
Six SEALs can travel in one Proteus and an additional six in another. Once they reach their insertion point, the first Proteus is instructed to patrol the coastline and feed real-time data regarding enemy movements to the partner team as it moves inland and then travels back to the extraction point.
SCHOOL SHOOTINGS: THIS CANNON FIRES UNBELIEVABLE AMMO TO BLAST THROUGH WALLS AND HELP RESCUE VICTIMS
The second Proteus is instructed to travel to the extraction point straight away. From there, that Proteus' mission is to monitor that area. If the area becomes compromised, say for example, by enemy troops that have suddenly shown up on the shoreline, then this Proteus warns the SEAL team and the other Proteus.
The SEALS notify the vehicles of a new extraction point and both subs pilot themselves there ready for the SEALs to board and return to the safety of the fleet.
PODCAST: WHAT IS IT ACTUALLY LIKE DEEP UNDERWATER INSIDE A SEAL STEALTHY VEHICLE ON MISSIONS? FIND OUT FROM THIS FASCINATING SEAL TEAM SIX SNIPER
Underwater drone team missions
So the sub can pilot itself without a human crew…. but it can also conduct spy missions with a team of underwater drones - without humans "at the wheel" inside the sub too.
Proteus can run reconnaissance missions by itself over hundreds of miles without any human intervention.
DRONE SLAYER: POLARIS MRZR ATVS, CHEVY TRUCKS, ARMED WITH NEW ANTI-DRONE WEAPON
Not only can Proteus deliver humans to a target, the sub can deliver air, surface and underwater micro drones to a target location and launch them. Equipped with advanced sensors and cameras, the drone team can provide more eyes underwater and eyes in the sky for the military.
All these drones could potentially collaborate and work together undetected providing reconnaissance, intelligence and surveillance on things like enemy coastlines and enemy fleets.
The drones could communicate and collaborate with each other - all on their own – while transmitting data back to the U.S. Navy. Once the mission is completed, the micro drones land or swim inside Proteus and are transported the long distance back to their mother ship.
Why would a drone team that can conduct missions autonomously be useful?
MARINES' NEW SWITCHBLADE DRONES WILL UNLEASH LETHAL MINI MISSILES
This could be incredibly important and play a role in keeping U.S. forces as safe as possible. Take "storming the beaches" as a practical example - drone teams deployed in advance of warfighters could provide crucial real time data feeds regarding enemy movements, armaments, air defense and further threats.
Each drone, equipped with different special cutting-edge tech, could be assigned its own data collection tasks within the overall mission objectives.
For example, an underwater drone may be assigned to locating underwater mines that could tear holes in the hulls of U.S. Navy ships. And a micro air drone could fly out of the Proteus to search for hidden mines on the beach and flag mine locations.
Information like this can help the U.S. military prepare and know what to expect before entering a battlespace occupied by an advanced adversary.
SOFIC: WHERE SPECIAL OPERATIONS SHOP FOR CUTTING-EDGE WEAPONS
By inserting drones into enemy territory to collect information in advance of troops or special operations teams, it reduces risk of human casualties.
While it may sound impossible, Proteus and other drones working together as a team have already been tested last year at the Naval Special Warfare Center (Panama City Division) Advanced Naval Technology Exercise (ANTX) – and reportedly went very well indeed. Proteus successfully delivered and launched the micro-drone team to perform their missions.
Closer to home, Proteus with a micro drone team has potential to help patrol and safeguard U.S. coastlines particularly near ports, airports and other critical national infrastructure.
PODCAST: "FAITH NOT FEAR, USE YOUR MIND TO DEFEAT THE ENEMY" WITH NAVY SEAL + TRANSFORMERS MOVIE STAR REMI ADELEKE 
How does it work?
In the front, the mini submersible can carry two special operators as pilots. An additional four can travel in the rear of the submersible.
Unlike large scale military submarines, there is no oxygen atmosphere inside. The Proteus floods with water so the combat divers must wear breathing apparatus to travel inside.
US ARMY GETS EVEN DEADLIER WITH FUTURISTIC NEW NIGHT VISION GOGGLES
The little sub weighs approximately 8,000 pounds, but can travel at speeds of about 10 knots. It has a special battery system that allows the sub to travel about 700 nautical miles.
How deep can it go? When there are no humans inside, the submersible can hit depths of 200 feet. With military special operators inside, it can travel at depths of approximately 150 feet below the water.
Since the Proteus combines long range and a large cargo capacity, it also has potential for use as a sort of SEAL's covert underwater pickup truck. Teams could jam-pack mission specific gear into a Proteus – such as weapons, ammo, micro air drones and communication equipment - for stealthy transport to a target location.
Once the team arrives in their Proteus, then they could unload the gear and head inland.