'Fortnite' desert mystery: Bizarre giant video game burger 'leaks' into the real world
The "Fortnite" phenomenon has just got even weirder. A giant real-life version of the "Durr Burger" sign featured in the wildly popular video game has been found in the Mojave desert.
The huge sign from a restaurant in the game, complete with protruding eyes and tongue, was spotted in Llano, California, Mashable reports.
"What.... is this... I'm in the middle of the desert why is this here???" tweeted photographer Sela Shiloni Friday.
The photographer, who said that he was scouting locations for an upcoming photo shoot, also posted video of the strange burger. What appeared to be a 70s-style police car and a sign that reads "This site is unstable. Beware of possible effects," were nearby.
Fortnite Intel reports that the in-game version of the Durr Burger sign was removed when a 'portal' recently appeared in the video game. PC Gamer notes that the sign, or mascot, went missing from "Fortnite" after a rocket launch in the game "went wrong and cracked the sky." The "rift" caused the sign to disappear from the game.
"Bye Durr, you were a good soldier," tweeted Leon Hurley, senior channel editor at GamesRadar.
Not surprisingly, the sign's subsequent appearance in the real-world is sparking chatter that the strange desert burger is some sort of marketing stunt.
'FORTNITE' PLAYER USES 'SHOPPING CART' TO MAKE VIDEO GAME HISTORY
There has, for example, been speculation that Epic Games, the developer of the hit game, might introduce a desert map for the imminent Season 5 of "Fortnite" according to Fortnite Intel. Season 5 of "Fortnite Battle Royale" starts on July 12.
Fox News has reached out to Epic Games for comment.
Other visitors to the strange site in the desert were handed business cards by an unidentified man, IGN reports. "Agent #3678," was written on the cards along with a number, which when dialed, plays a version of the sound effect used in the game when a "Fortnite" object is sucked into space, according to IGN.
'FORTNITE' JUMPS FROM GAMER OBSESSION TO CULTURAL PHENOMENON
Epic Games' free "Fortnite Battle Royale" spin-off has been a massive success with gamers. The multiplayer shooter game, which lets players navigate a vast landscape, has racked up a huge following since its release as an early access game last year.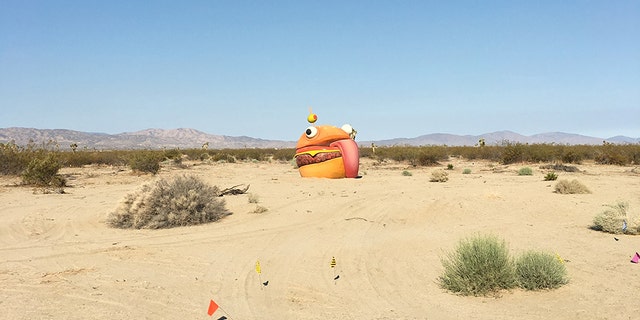 Citing comments made during a quarterly earnings call by Chinese internet services giant Tencent (which owns a stake in Epic Games), Marketwatch recently reported that "Fortnite" has over 40 million monthly active users.
A global cultural phenomenon, "Fortnite" has been breaking records left, right and center. "Fortnite" became the most viewed game on YouTube earlier this year, surpassing "Minecraft," "PUBG" and "Clash Royale," according to data released in March by influencer marketing platform Matchmade.
WILDLY POPULAR 'FORTNITE' VIDEO GAME BREAKS YOUTUBE STREAMING RECORD
Underlining its popularity, "Fortnite" set a new YouTube record for a live gaming stream earlier this year. The game also set a new record for most videos related to a video game uploaded to YouTube.
"Fortnite Battle Royale" allows up to 100 players to compete against each other or form squads in a fast-moving combat game. "The last one standing wins," explains Epic Games, on its website.
Gamer OrangeGuy recently made video game history when he used a 'shopping cart' within "Fortnite" to become the first person to return to the game's starting point.
Fox News' Christopher Carbone contributed to this article.
Follow James Rogers on Twitter @jamesjrogers