Formidable 'Jaguar' recon vehicle revealed, touts powerful cannon and anti-tank missiles
Fully-loaded Jaguars conjures up images of luxurious interiors and sports cars with sleek lines ... however, a 25 ton, entirely different breed of 'Jaguar' comes equipped with an array of weapon options.
The armor remains under wraps, but it is expected that more than 20 pounds of exploding TNT won't stop this new Jaguar EBRC reconnaissance vehicle. It has been confirmed that the system will protect against a wide range of threats – even including nuclear, chemical and biological weapons.
This tank killer has a cannon that can smite targets with armor, behind double-layered concrete and more. Jaguar's missile launchers lob anti-tank missiles that demolish enemy tanks. The remote-controlled machine gun will hit threats up to about 13,000 feet away.
Designed for reconnaissance and combat behind enemy lines while collecting intelligence, it is loaded up with both serious armor, hard-hitting weapons, advanced optics, three periscopes and much, much more. A six-wheel drive vehicle, Jaguar can handle recon missions in tough terrain and hard-to-access places.
About 24 feet long, 11 feet high and 10 feet wide, the vehicle can carry three personnel: a commander, a driver, and a gunner.
EUROSATORY 2018: POCKET-SIZED SPY DRONE IS A POWERFUL EYE IN THE SKY FOR US TROOPS
This Jaguar doesn't have much in common with the iconic Jaguar sports cars – except perhaps that they are both air conditioned.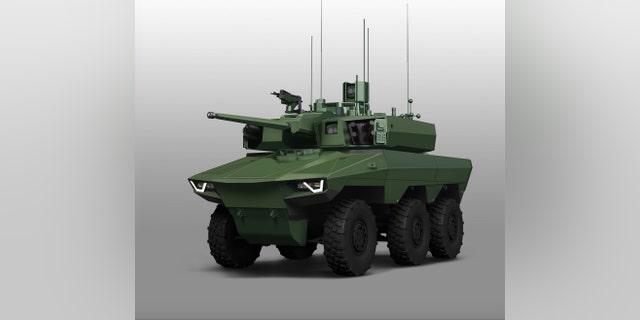 A team including Nexter, Renault Trucks Defense and Thales developed Jaguar as part of the French Army's modernization program. Allied militaries were given a chance to get up close to the new vehicle for the first time last week where the prototypes were unveiled at Eurosatory.
Here's what has been revealed about this exciting new combat vehicle.
Cannon and Turret
Jaguar has a two-man turret armed with one 40mm CTC cannon that can fire a wide range of options including airburst, armor piercing and HE (High Explosive) ammunition to defeat a large spectrum of threats. The fully stabilized turret will allow forces to fire accurately while on the move.
To destroy light armored vehicles with RHA (Rolled Homogeneous Armor) for example, the crew could use APFSDS-T (Armor-Piercing Fin-Stabilized Discarding Sabot – Tracer) able to penetrate enemy infantry combat vehicles.
EUROSATORY 2018: HUGE WHEELED MILITARY ATV SWIMS AND SURPRISES
Urban terrain will certainly continue to play a role in future conflicts. For reinforced concrete smashing, the General Purpose Round Point Detonating – Tracer (GPR-PD-T) is another available option with the Jaguar cannon.
If under fire from enemy forces positioned behind a wall or vehicle, then the crew could use a General Purpose Round Airburst – Tracer (GPR-AB-T). This High Explosive munition is designed for maximum fragmentation and will deliver an HE shell airburst detonation above the target to reach the enemy forces. It is also helpful when quick suppression is needed for a large area.
Combat vehicles face threats from above as well. With Jaguar's cannon another option is the A3B-T, Anti-Aerial Airburst-Tracer, that unleashes 200 tungsten pellets. The crew could potentially use these against enemy threats like drones, helicopters and low flying aircraft.
PODCAST: NAVY CROSS MARINE RECON BREAKS GUINNESS BOOK OF WORK RECORDS FOR IRON MAN – HEAR HIS REMARKABLE STORY FIRSTHAND
Machine Gun and Smoke Grenades
Mounted on top of the turret, there is a remote-controlled 7.62-millimeter machine gun that can be fired by the commander.
There are also four smoke grenade launchers mounted at the front on each side of the turret and at the rear there are two more. These could be vital to provide rapid concealment of the Jaguar and make it difficult for the enemy to pinpoint and fire at it effectively, for example.
FUTURISTIC MINI-SUB COULD BE A VALUABLE WEAPON FOR NAVY SEALS
Jaguar is also armed with weapons such as jamming systems that deliver attacks invisible to the eye, but with powerful impact.
Missiles
The right side of the turret is fitted with two launchers for MBDA MMPs (Missile Moyenne Portée) – that's medium range missiles in English.
The MMP missile is a fire-and-forget so it will lock-on a target before launch and then automatically guide itself to the target. These missiles can unleash devastating strikes as far away as 13,000 feet.
Even in bad weather, night-time conditions or other issues like smoke that could impact visibility, these missiles are so smart they will still identify the target by themselves and strike accurately.
Armor
Exact protection levels on the Jaguar remain confidential.
However Jaguar's brother in the French Army Scorpion program has an armor level of NATO STANAG 45694, so it is expected that Jaguar will have that as well. This means Jaguar armor will protect the crew against the gamut of small arms fire and 155mm artillery shell shrapnel.
SOFIC 2018: AMAZING SPECIAL OPERATIONS VEHICLES, WEAPONS AND MORE ON SHOW
Mines and IEDs will continue to be a serious threat for ground troops. The crew inside would also be protected against blasts from IEDs loaded with approximately 22 pounds of TNT.
Jaguar will most likely have adjustable armor that will allow them to increase or decrease as necessary for the mission and environment. Since armor adds weight and weight can decrease speed, this will be a great advantage as well.
Safety of the crew will be further enhanced by fire-suppression tech and a CBRN (Chemical, Biological, Radiological and Nuclear) protection system.
PODCAST: CONCEALED CARRY MASTERCLASS WITH THIS DELTA FORCE TRIPLE THREAT LEGEND 
Recon
For reconnaissance missions, the crew can take advantage of a wide range of advanced tech.
To surveil the enemy at a distance whether day or night, Jaguar has a PASEO EO/IR sight system.
DRONE SLAYER: POLARIS MRZR ATVS, CHEVY TRUCKS, ARMED WITH NEW ANTI-DRONE WEAPON
Enemy lasers will be detected, and the crew immediately warned of the threat, by the two Thales Antares 360 sensors.
When under enemy fire, the Metravib Pilar V acoustic detection system will locate the position of shooters even if they are concealed.
The Jaguar is also equipped with a missile detection system.
3 Periscopes
The driver can look out through three different periscopes to surveil while safely inside the armored vehicle.
For night missions, the driver can switch the central periscope to IR vision. There are also multiple cameras mounted around the vehicle.
The Ride
Designed to excel at off-roading, this isn't just a 4x4, it is a six-wheel drive with front and rear axle steering that helps turn in very tight spaces.
MARINES' NEW SWITCHBLADE DRONES WILL UNLEASH LETHAL MINI MISSILES
Even if a tire blows, the Jaguar will still run thank to the Hutchinson run-flat tire system.
The 25-ton Jaguar EBRC has a 500 horsepower Volvo diesel engine, 7-speed transmission and can reach speeds of 55 miles per hour.
What's next?
The Jaguar is a key part of the French Army's $12 billion Scorpion modernization program and will replace a number of vehicles including the ERC 90 Sagaie.
After the big reveal at Eurosatory last week, the prototypes are now heading for more testing by the French Army with 248 Jaguars expected to begin joining them by 2020.