Foreign hackers have US election networks in their crosshairs, report says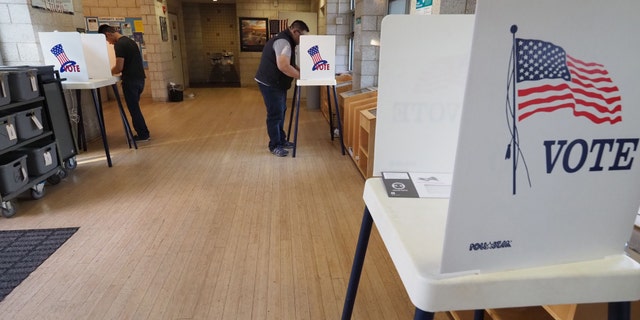 Foreign hackers are reportedly increasing their efforts to target America's election infrastructure ahead of Tuesday's midterms.
Citing Department of Homeland Security election threat reports, the Boston Globe reports that hackers have targeted voter registration databases, election officials and networks across the U.S.
The incidents, which range from injections of malicious code to bogus requests for voter registration forms, have not been publicly disclosed until now, according to the Boston Globe.
35 MILLION VOTER RECORDS UP FOR SALE ON THE DARK WEB, REPORT SAYS
Documents show that more than 160 reports of suspected election meddling have been recorded by U.S. government agencies since Aug. 1, the report says, and the pace of suspicious activity has been increasing. Most of the recent incidents are described as "foreign-based."
The Department of Homeland Security told Fox News that election officials are sharing more data with the Department about the cyber attacks targeting their systems. "As a result of improved relationships between DHS and state and local election officials, our election partners regularly share network activity they see with DHS," said DHS spokesman Scott McConnell, in a statement emailed to Fox News. "This sharing is helping us build a national-level understanding of the cybersecurity threats facing our nation's election infrastructure."
However, McConnell said that this should not be seen as a spike in cyber attacks. "This does not mean that our partners are seeing an increase in cyber threats to their networks," he said. "DHS is committed to sharing timely and actionable information, like what is outlined in the intelligence report, with our elections partners."
TWITTER REMOVED OVER 10,000 BOTS THAT PRETENDED TO BE DEMOCRATS, TRIED TO DISCOURAGE VOTING
McConnell also noted that the attacks are not unique to election infrastructure. "As we have consistently said, while we are aware of cyber actors targeting election infrastructure, the tactics used in these activities are common and not unique to election systems," he explained. "To be clear, we have not attributed any of this activity to a nation-state, nor do we have any reason to believe it to be part of a broader campaign. DHS and our state and local election partners are aware of the ongoing threats to election infrastructure and we continue to work every day to secure and increase the resilience of our nation's elections."
In the wake of alleged Russian meddling in the 2016 U.S. presidential election, Trump administration officials have warned that Russia poses a sustained threat to other U.S. elections. Russia has repeatedly denied the allegations of election meddling. Earlier this year, 13 Russian nationals and three companies were indicted for interfering with the 2016 presidential election after Special Counsel Robert Mueller brought a case against them, detailing a sophisticated plot to wage "information warfare" against the U.S.
FACEBOOK PURGES HUNDREDS OF PAGES, GROUPS, ACCOUNTS LINKED TO RUSSIA, IRAN
A recent survey of more than 1,000 people in the U.S. by IT company Unisys reported that 19 percent of Americans "will not vote" or "have a high likelihood" of not voting in the midterms, citing concerns about outside actors compromising voting systems.
Fox News' Brooke Singman and Chris Ciaccia contributed to this article. Follow James Rogers on Twitter @jamesjrogers