Everything we know about Samsung's rumored 'Galaxy Gear' smartwatch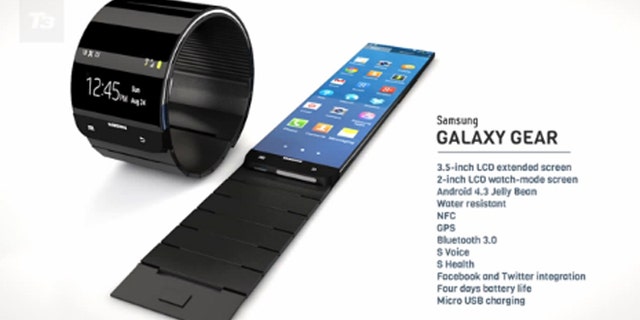 The year of the smartwatch marches on, and following hardware such as the Pebble, Sony's SmartWatch 2, and all manner of crowd-sourced alternatives, the next manufacturer expected to reveal such a device is Samsung. We've been hearing about a smartwatch from Samsung most of the year, but it's only very recently we've learned its arrival is imminent. So what do we know about the watch? Quite a lot, but not all that much detail. As the announcement draws closer, we've pulled all the rumors surrounding the device together in one handy guide.
It called the Galaxy Gear
A trademark filing discovered in July linked devices, including watchbands and wristwatches that communicate data with smartphones, to the name Samsung Gear. The month after, to no-one's surprise, the Gear name became prefaced by Samsung's beloved and wide-ranging Galaxy brand name in another trademark application. Finally, this week, a Samsung executive confirmed the Galaxy Gear name in an interview.
RELATED: Samsung announces early adopter price of $1,600 for Galaxy NX Android-based camera
Before it became known as the Galaxy Gear, it was first revealed as the Galaxy Altius, a considerably cooler name, which came along with a series of screenshots supposedly taken from the watch.
September 4 announcement
In the same interview that confirmed the Galaxy Gear name, we also learned the smartwatch will be revealed at Samsung's second Unpacked event of 2013, which will take place on September 4 in Berlin. It'll be joined by the Galaxy Note 3 smartphone-tablet hybrid, a device which may benefit from the functionality provided by a smartwatch, thanks to its inevitably unwieldy size. According to Samsung, it has been working on a smartwatch for some time, so expect the company to make it a big deal.
What will it look like?
Excitingly, this is the area about which we've heard the least. Obviously, if it's going to be worn on the wrist, there are only so many shapes and designs it can have, but pictures showing the device itself have stayed out of the limelight. There have been several concepts spread around the Internet, one of which you can see above, but otherwise, the look of the Galaxy Gear is all set to be a launch-day surprise. If you want to get a hint, here's one of the better concept videos, even though we now know the Gear won't have a flexible screen.
RELATED: A new Facebook virus has already infected 800,000 users – here's what you need to know
Talk of flexible screen and other specs
Samsung has been rumored to be working on a flexible-screen device for many months, but if the Galaxy Gear will arrive before 2014, it won't be packing one of these bendy marvels. Samsung's vice president of mobile confirmed the Gear wouldn't boast such a feature, but added that one of its successors may.
Otherwise, there's no official word on the Galaxy Gear's specifications, but there are a few rumors. A leaked set of specs found its way to SamMobile recently, suggesting the Gear may have a 1.67-inch display with a 300 x 300 pixel resolution, a 1.5GHz dual-core processor, a 2-megapixel camera, and 1GB of RAM. Both Bluetooth and NFC were also included. The screenshots leaked in February had a 500 x 500 pixel resolution though, so there's a chance the screen may turn out to be sharper than indicated here.
By way of a comparison, the sixth-generation iPod Nano has a 1.54-inch screen and a 240 x 240 pixel resolution, while the new Sony SmartWatch 2 has a 220 x 176 pixel, 1.6-inch display.
RELATED: Recently granted Apple patent could turn your iPhone into a whole-home remote
SamMobile's report isn't the only one we have to go. An anonymous sourced cited by GigaOm recently chimed in that the Gear will have a 2.5-inch OLED screen with a 320 x 320 pixel resolution, and will be powered by Samsung's dual-core Exynos chip.
An accelerometer could activate the screen when you move your wrist up to your face, and many other sensors could allow it to compete with fitness trackers like the Nike FuelBand, as well as integrate with Samsung's own S Health app.
Android and Samsung's own apps
According to GigaOm, the watches being tested by developers run on Android Jelly Bean, either version 4.1 or 4.2, and work primarily using gestures and swipe controls. Given the small size of the screen, we shouldn't expect a keyboard to be included. However, there's likely to be plenty of Samsung's own apps, which could be sold through a dedicated Samsung app store rather than Google Play.
Samsung is notorious for filling its smartphones with many, often useless, proprietary apps, and we doubt it'll resist the temptation to do the same with the Gear. However, perhaps apps like S Health and S Translator will make more sense when installed on a smartwatch.
A watch and a phone?
In mid-August, a Bloomberg report about the Galaxy Gear said insiders had informed them the smartwatch would also make calls, a feature previously not expected to appear on the device. Phone watches have never caught on, despite several attempts, and adding phone functions to a watch would certain raise the price and long-term cost of ownership way beyond its competitors.
RELATED: Dell unveils 'world's most secure Ultrabook' with super slim Latitude 7000 laptop
It could come in various colors, including fashionable gold
Like several of its smartphones, Samsung will probably release the Galaxy Gear in a variety of hues. If the rumors are accurate, the initial run will see a black, white, grey, and orange Galaxy Gear go on sale, with a white gold model following soon afterwards.
That covers what we know about the Galaxy Gear smartwatch so far, but we'll be sure to update here if more details emerge before the launch event. Otherwise, we'll officially hear all about it on September 4.