Early Black Friday electronics deals from Target and Best Buy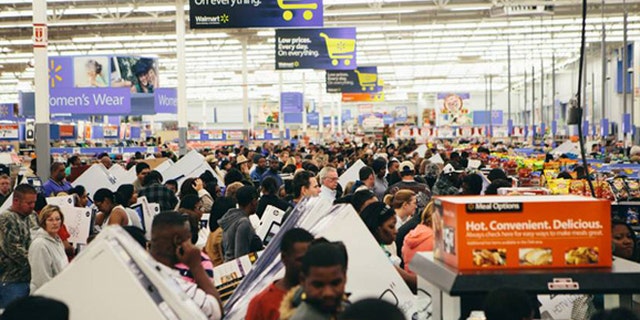 An editor's note follows this story.
For those who treat Black Friday shopping like a recreational sport, it's shaping up to be quite a competitive event this year. Now that Walmart's Black Friday deals have been revealed, it'll be interesting to see how they compare with two other major retailers, Target and Best Buy, which are also using electronic items—including TVs—as a major draw.
Target's Black Friday deals will kick off at 8:00 p.m. on Thanksgiving; Walmart's will begin two hours earlier. Earlier this weekend, some early Target Black Friday deals leaked, showing that the chain will offer a basic 40-inch Samsung 1080p LCD set—model UN40EH5300FXZA—for $398, down from $500. Those looking for a bigger set will find a Vizio 47-inch 1080p model for $380, down from $520.
Other electronics gear at Target will include Beats by Dre Solo headphones at $150, down from $200, and the Beats by Dre Solo HD on-ear models for $120, down from $180.
But last night, one of the Black Friday sites we follow—bfads.net—broke the rest of Target's Black Friday deals. Among the TV specials:
a 50-inch 60Hz 1080p Element LED LCD TV (ELEFT502) for $229, usually $600;
a 40-inch 120Hz 1080p Westinghouse LED LCD TV for $200, regularly $310;
a 37-inch 60Hz 720p LED LCD TV from Vizio (E370-A0) for $250, usually $330;
a 47-inch 120Hz 1080p LED LCD TV from Vizio (E470i-A0) for $380, down from $500;
a 32-inch 60Hz 720p Samsung LED LCD TV (UN32EH4003FXZA) for $228, usually $270;
a 50-inch 60Hz 1080p Samsung LED LCD TV for $598, normally $750;
a 55-inch 120Hz 1080p Samsung LED LCD TV (UN55FH6030FXZA) for $698, down from $900.
But not all the Black Friday deals are on TVs; there are plenty of special buys on tablets, cell phones,and other items. Here are a few that caught our attention:
Find the right television for your needs and budget with our TV buying guide and Ratings.
While we're expecting Best Buy's Black Friday circular to appear any day now, the electronics chain spilled at least some of its Black Friday beans to a local Arkansas TV station—interesting, since Walmart is based in Bentonville, Arkansas.
The chain, which like others has taken some flack for opening at 6 p.m. Thanksgiving evening, will have at least two TV deals: a 55-inch LG 120Hz 1080p LCD TV for just $500, half off its everyday selling price of $1,000, and a 30-inch 1080p LCD from Insignia, the chain's house brand, for $169, down fro $249. But you may have to skip the turkey dinner to be able to get these limited-supply deals.
Also in the mix are a $99 Kindle Fire HD, half off its regular selling price, and a 15-inch touch-screen laptop from Asus—a Windows 8 model with a 320GB hard drive for $249, half its normal selling price. Those planning on doing some holiday cleaning should know that Best Buy is offering 25-percent of all Dyson vacuum cleaners during the sale.
We expect to be able to report on a lot more Best Buy deals shortly, so if you'll be Black Friday shopping, keep checking back for all our updates. As we get closer to the Black Friday weekend, we'll be sharing the best deals we've seen across several product categories, as well as some general Black Friday shopping advice to make the most of your excursion.
Editor's Note: An earlier version of this article incorrectly listed the kick-off time for Target's Black Friday sales. The correct time is 8:00 p.m.
Copyright © 2005-2013 Consumers Union of U.S., Inc. No reproduction, in whole or in part, without written permission. Consumer Reports has no relationship with any advertisers on this site.