Drone slayer: Polaris MRZR ATVs, Chevy trucks, armed with new anti-drone weapon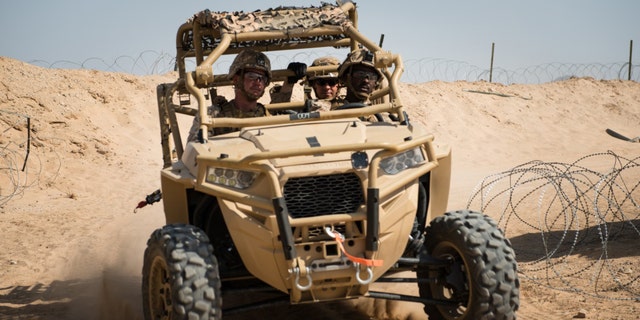 Souped-up military MRZR ATVs armed with powerful drone slayers could be the answer to defeating drone attacks in the future.
The X-MADIS (eXpeditionary Mobile Aerial Defense Integrated System) launches an attack that is invisible to the eye, but is devastatingly deadly to an enemy drone.
Developed for an undisclosed customer in the U.S. Department of Defense, X-MADIS is currently deployed overseas mounted on a Polaris Defense MRZR with an unspecified U.S. force.
X-MADIS armed MRZRs combine all that unrivaled off-roading power with lethal drone slaying power.
How powerful is this drone slayer?
MARINES' NEW SWITCHBLADE DRONES WILL UNLEASH LETHAL MINI MISSILES
While travelling at speeds of up to about 50 mph, X-MADIS can detect, identify and defeat drones by unleashing a powerful electronic warfare attack.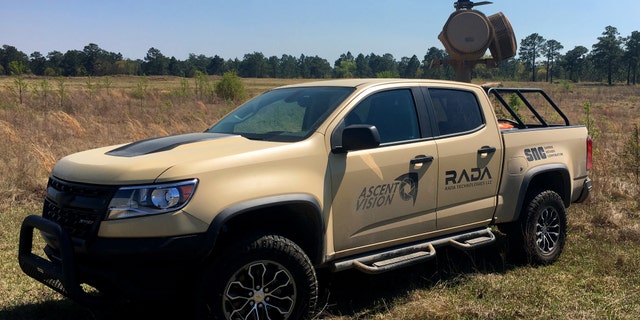 X-MADIS can electronically jam – and down - drones as far as several kilometers away.
And it can even stop multiple drones at the same time – meaning drone attack swarms would be stopped in their tracks before they could harm U.S. forces on the ground.
The growing drone threat
U.S. forces are increasingly attacked by enemy drones. Explosives, chemical weapons, biological weapons and more can be loaded up on drones and sent to strike military personnel.
Enemy drones can be deadly with weapons, but can also provide information that puts U.S. forces in danger. Adversaries can use them as an eye in the sky conducting surveillance. The drones can reveal the location of U.S. forces, their numbers, whether their vehicles are armored or soft skin, how they are armed and more.
SOFIC: WHERE SPECIAL OPERATIONS SHOP FOR CUTTING-EDGE WEAPONS
As every year passes, widely available hobby drones become more sophisticated and readily available to everyone – including terrorists.
The capability to stop multiple drones is very important because terrorists have launched multiple drones to simultaneously attack and will increasingly continue to do so.
And if the United States faces another country in war, then the U.S. military will most likely face sophisticated drone swarms.
Enter X-MADIS. It is deadly to enemy drones. It can slay multiple drones attempting to strike U.S. forces at the same time. Mounted on MRZRs it becomes extremely mobile in even the toughest and most rugged terrain.
Sierra Nevada created the device's electronic warfare capabilities, making X-MADIS highly lethal to enemy drones. Renowned for its space expertise and pioneering innovation, the company has harnessed its tech knowledge to help defeat the drone threat.
US ARMY GETS EVEN DEADLIER WITH FUTURISTIC NEW NIGHT VISION GOGGLES
In partnership with Ascent Vision and RADA Technologies, Sierra Nevada has created X-MADIS.
PODCAST: HEAR FIRSTHAND ABOUT SOME OF THE MILITARY'S MOST IMPORTANT DRONE MISSIONS FROM ARMY INTELLIGENCE OFFICER
Rugged, rapid response to drone threats
Mounted on an MRZR that reaches speeds of about 60mph, teams could quickly react and drive towards targets to provide protection against drones.
Polaris Defense MRZRs for the Armed Forces are similar to RZRs enjoyed all across America – but even more awesome. The ultra-light MRZRs have long been a U.S. military favorite for their outstanding off-road mobility. U.S. Special Operations Forces rely on MRZR 2 and MRZR 4 for their work downrange.
Since X-MADIS is an easily transportable weapon against drones, this is a huge advantage providing lots of flexibility with the opportunity to rapidly respond and protect.
Forward operating bases, for example, tend to be in remote places. Mounted on an MRZR, teams would be able to transport the MRZR over treacherous terrain to reach the FOB and park it to provide protection.
5 ULTIMATE ADVENTURE-PROOF GRAD GIFTS FOR 2018
X-MADIS-mounted MRZRs could also be rapidly driven to landing zones to protect helicopters evacuating wounded, as another example. In war zones, airports and runways are attractive targets. The MRZRs armed with these drone slayers could be driven to these sites to provide protection against drone attacks.
PODCAST: ILLINOIS BASEBALL TO GREEN BERET – HOW THIS SNIPER APPLIES SPECIAL FORCES SKILLS TO COACHING BASEBALL
How does it work?
To operate the drone defeating system, it only takes one warfighter seated in the vehicle.
How does it detect drones? X-MADIS combines a powerful "jammer" (counter-unmanned aerial systems capability) with radar and Electro-Optical/Infrared (EO/IR) tech.
These tools give the X-MADIS the ability to hunt, detect, locate and confirm the identity of enemy drones. It then can track the drone, or drones, and use electronic warfare to put an end to the threat.
The X-MADIS jammer can do a number of remarkable things, but details of advanced electronic warfare capabilities are not appropriate to release publicly.
BEER IN SPACE? CUTTING-EDGE PROJECT TOUTS UNIQUE ZERO GRAVITY BREW
X-MADIS performed extremely well at a recent testing event at Fort. Bragg North Carolina where set up time and capability were evaluated.
War zone and homeland
Arming MRZR's with drone jammers, combining the best off-roading vehicle with a weapon to stop the rising drone threat, is a fantastic idea.
But this drone weapon can also be integrated into pretty much any commercial off-road vehicle. At the Special Operations Forces Industry Conference last week, X-MADIS was shown mounted on a Chevy Colorado pickup truck.
On a truck like the Chevy, X-MADIS has potential to protect the homeland as well. Large, dense crowds are attractive targets for terrorists. Law enforcement could drive X-MADIS to protect events like marathons or Independence Day celebrations. Border protection could drive X-MADIS to locations where it is deemed necessary to stop drones from delivering narcotics across the border.
Since X-MADIS is mobile, it could easily be transported to critical national infrastructure, say a nuclear facility or dam, to respond to intelligence of a potential drone attack.
X-MADIS can even be mounted on boats, which could be useful to protect the nation's ports.