Digital rights group warns that Google's stance on neo-Nazis is 'dangerous'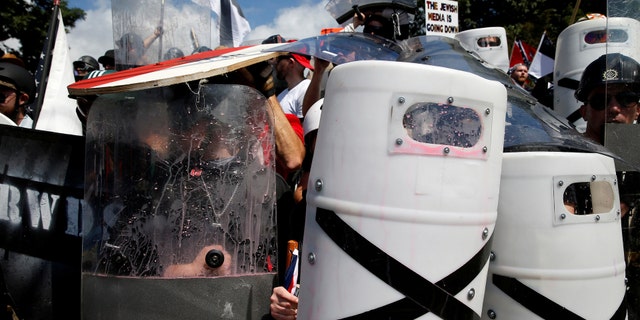 The Electronic Frontier Foundation warns the decision by Google, GoDaddy and Cloudflare to expel white supremacist site the Daily Stormer from their services has worrying free speech implications.
In a statement released Thursday, the Electronic Frontier Foundation (EFF) warned the tech companies' move could set a precedent. "We strongly believe that what GoDaddy, Google, and Cloudflare did here was dangerous," it said. "That's because, even when the facts are the most vile, we must remain vigilant when platforms exercise these rights. Because Internet intermediaries, especially those with few competitors, control so much online speech, the consequences of their decisions have far-reaching impacts on speech around the world."
Domain provider GoDaddy expelled the Daily Stormer on Aug. 14 after an online post on the white supremacist site disparaging Heather Heyer, who was killed during protests in Charlottesville on Aug. 12. Daily Stormer registered its domain with Google Domains, but was promptly expelled by the tech giant.
DAILY STORMER DOWN: WHITE SUPREMACIST SITE LOSES DOMAIN IN WAKE OF CHARLOTTESVILLE VIOLENCE
Cloudflare, which provides distributed domain name server services, terminated the Daily Stormer's account Wednesday.
The EFF condemned "hateful violence and aggression" in its statement but cautioned that "we must also recognize that on the Internet, any tactic used now to silence neo-Nazis will soon be used against others, including people whose opinions we agree with."
In an email to Fox News, Cloudflare CEO Matthew Prince said that the company "wholeheartedly" agrees with the risks outlined by the EFF, and highlighted Cloudflare's blog post on the Daily Stormer's removal. In the blog, Prince acknowledged the dangers of censoring, but explained the circumstances surrounding the termination of the Daily Stormer's account.
GODADDY EXPELSWHITE SUPREMACIST SITE DAILY STORMER AFTER ARTICLE ON CHARLOTTESVILLE VICTIM
"Our terms of service reserve the right for us to terminate users of our network at our sole discretion," he wrote. "The tipping point for us making this decision was that the team behind Daily Stormer made the claim that we were secretly supporters of their ideology."
In an email obtained by Gizmodo, Prince wrote an email to his employees, explaining his decision, noting: "the people behind the Daily Stormer are assholes and I'd had enough."
Google declined to make additional comment beyond the statement it released earlier this week. On Monday, Google explained that it cancelled Daily Stormer's registration with Google Domains for violating the tech giant's terms of service.
GoDaddy has yet to respond to a request for comment on this story from Fox News.
TWITTER USERS IDENTIFY WHITE SUPREMACISTS AT CHARLOTTESVILLE PROTESTS
Users of the Daily Stormer website have reportedly moved to a dark web version of the site.
The dark web, or darknet, refers to private networks built from connections between trusted peers using unconventional protocols. Dark web is just one part of what is known as deep web – a vast network that is not indexed by search engines such as Google and Bing.
Follow James Rogers on Twitter @jamesjrogers