Clinton won Google searches, Trump dominated Twitter during first presidential debate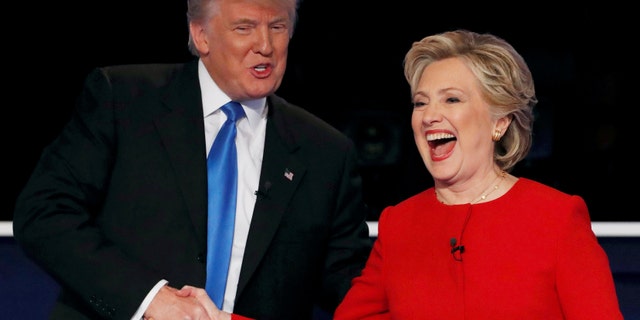 Hillary Clinton led in Google searches during Monday's fiery first presidential debate, although Donald Trump was the most discussed candidate on Twitter.
Clinton accounted for 60 percent of Google searches during the eagerly-anticipated clash at Hofstra University, according to Google Trends.
Trump was the most searched candidate prior to the debate, but was overtaken by Clinton in all 50 states after the debate, the search giant reported.
The Republican nominee, however, accounted for 62 percent of the conversation on Twitter, according to Twitter Government.
"As we've seen during this campaign cycle, Mr. Trump's ability to spark conversation on Twitter has created a following," social media expert and President of JRM Comm Jason Mollica told FoxNews.com, via email. "That said, just because he 'dominated' the conversation on Twitter, doesn't mean it was all positive or negative."
The top retweeted tweet during the debate was Trump's November 2012 Tweet on global warming. During the debate Clinton said that Trump had labelled climate change a hoax, which he denied.
During an appearance on Fox & Friends earlier this year Trump said that the tweet was a joke.
Mollica told FoxNews.com that he wasn't surprised by the number of Clinton-related Google searches. "In many ways, there are people who have no idea who they are going to vote for in November," he explained. "Mrs.Clinton's history in Washington, while known to a large amount of people, may be new to some. I also believe [they] wanted to see why Mrs. Clinton is considered to be qualified to be the next President, leading up to and after the debate."
The nominees clashed on a number of issues during Monday's debate, including trade, taxes and the battle against ISIS. The economy was the most tweeted topic during the debate, followed by foreign affairs, energy and environment, terrorism and guns, according to Twitter Government.
The top fact-checked question for Clinton on Google was "Is stop and frisk unconstitutional?" while "Did Trump support the Iraq war?" was the most fact-checked question for her rival.
Follow James Rogers on Twitter @jamesjrogers