California teen wins Tetris World Championship, 'dethrones' 7-time winner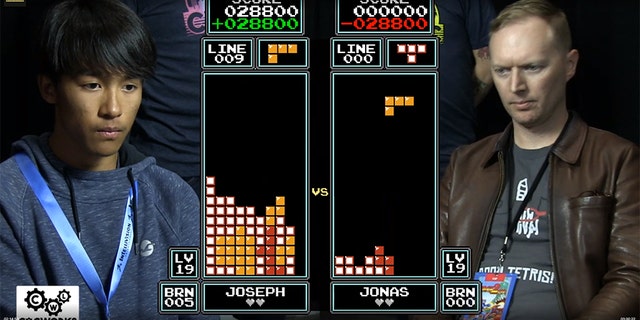 Tetris players, meet Joseph Saelee: the winner of the 2018 Classic Tetris World Championship.
Saelee, 16, nabbed the title in Portland, Ore., during the Portland Retro Gaming Expo on Sunday.
Footage shows the California teen "dethroning" 7-time winner, Jonas Neubauer.
Saelee beat Neubauer in three games, Kotaku reports, explaining the final was a best-of-five matchup.
Neubauer, 37, had nothing but praise for Saelee.
"The kid played with pure heart, the most clutch Tetris that we've seen from anyone," Neubauer said, according to the gaming site.
VIRTUAL REALITY CAN HELP MAKE EVERYONE MORE EMPATHETIC
"He just really had the ability, had the natural ability, and let it shine as bright as he could in his first tournament. [It's] truly an honor to pass the torch to the new generation of Tetris players," he continued.
Saelee admitted he had low expectations when he entered the competition.
"I don't know how to feel," he said, per Kotaku. "I'm still recovering. It's absolutely a dream. I came into this tournament just to qualify, just to meet all these great people, and to win, that's just amazing, I don't know what to say."
VIDEO SHOWS DEVASTATING DAMAGE DRONES CAN INFLICT ON PLANES
The teenager uses a 1985 Nintendo NES console during his daily practices, which last several hours, BBC reports.
It may not be the last esports fans hear of Saelee: the teen said he's planning to enter the 2019 contest.
"I feel like I could still improve; it isn't just a one-time thing," he added.