Virtual reality can help make everyone more empathetic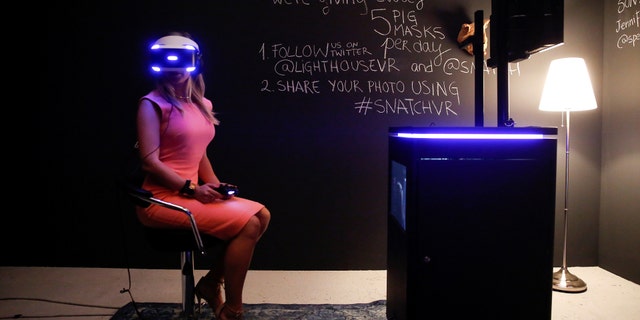 Virtual reality can make humans more understanding to realities different from their own, according to a new study.
Research participants who tried out a VR experience about losing your job and becoming homeless showed stronger and longer-lasting empathic attitudes toward the homeless versus those who just read an article about homelessness. The findings were recently published in PLOS ONE.
"Experiences are what define us as humans," Jeremy Bailenson, a co-author of the paper, said in a statement. "So it's not surprising that an intense experience in VR is more impactful than imagining something."
Virtual reality proponents have long advocated for the benefits VR can have on boosting someone's empathy through the technology's ability to literally place you in another person's experience. But little research had been conducted and what did exist were small, sample-sized studies consisting of mostly college students. These studies also didn't examine the long-term effects a VR experience can have on empathy.
So for the latest study, researchers at Stanford University conducted two two-month-long studies with over 560 participants between the age of 15 and 88 who represented at least eight different ethnic backgrounds.
Some participants were shown "Becoming Homeless" — a seven-minute VR experience that takes a viewer through the realities of losing your job and everything you own. Some of the scenes include choosing items from your apartment to sell to pay rent, finding shelter on a public bus and figuring out how to protect your belongings from strangers.
Other participants were either given an article to read that asked them to imagine being homeless, or a 2D desktop version of the VR to interact with.
The participants who experienced the "Becoming Homeless" VR showed enduring positive attitudes towards the homeless. These participants were more likely to agree with the statement "Our society does not do enough to help homeless people," as well as saying they cared "very much" about the plight of homeless people.
Additionally, VR participants in the first study were 82 percent more likely to sign a petition in support of affordable housing compared to 67 percent who read the article. In the second study, 85 percent of VR participants signed the petition while 63 percent of article readers signed and 66 percent of those who were given the 2D version signed.
"Taking the perspective of others in VR produces more empathy and prosocial behaviors in people immediately after going through the experience and over time, in comparison to just imagining what it would be like to be in someone else's shoes." Fernanda Herrera, the lead author of the study, said. "And that is an exciting finding."
This story originally appeared in the New York Post.