Calf born with 'fifth' leg shocks villagers who worship it as a god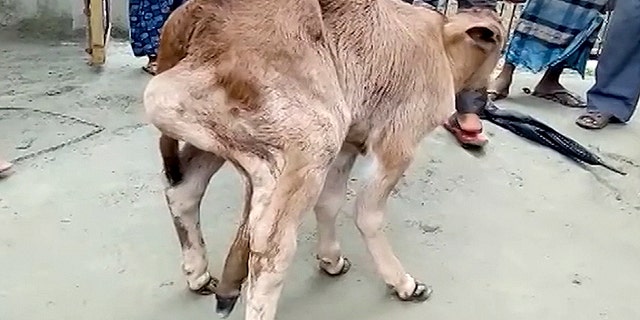 A dairy calf in South Salmara region of Assam in northeast India has been the center of attention after it was discovered it was born with a fifth leg.
The calf, which is surpisingly still alive, was born at the farm of Hasan Ali. The calf is being treated like a deity in India, a country where bovines are considered sacred.
Images of the calf have gone viral after being posted to the internet.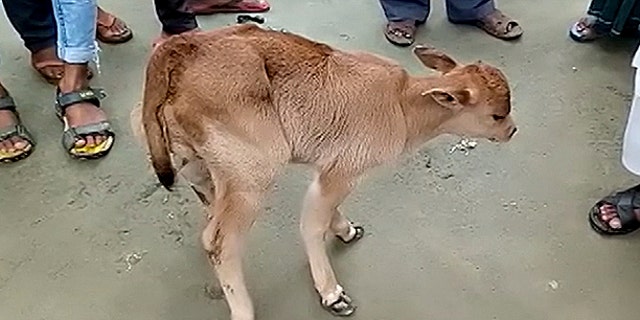 'DEMONIC GOAT' APPEARS IN INDIA, TERRIFYING VILLAGE WITH HUMAN-LIKE FACE
In an interview with Caters News, Ali said: "We were shocked to see a deformed leg hanging from its behind. I have domesticated cows and buffaloes since childhood but never before had I seen such a rare animal."
The calf was born on Aug. 10, with the fifth leg appearing to be that of an unborn twin.
"We had no hopes of it to live even for few hours but it has surpassed our expectations," Ali added. It is eating properly and urinates but sadly it has no rectum to relieve itself."
"We cannot say how long it will survive but we are taking good care of it so it lives happily as long as possible."
BIRTH OF 'DEMON GOAT' TERRIFIES TOWN; POLICE ARE CALLED
This strange birth is the latest in a bizarre string of animal births across the globe.
Also in India, a 'demon' goat was born having facial features like that of a human. The goat was born on Aug. 17 and a Facebook video went viral, being shared more than 40,000 times showing off the goat's face, which includes a lip curling upwards.
In mid-July, a separate goat was stillborn with a "demonic face," in the San Luis province of Argentina.