BlackBerry PlayBook to (Finally) Launch April 19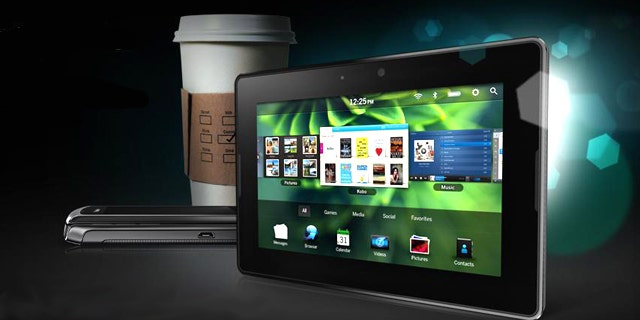 NEWYou can now listen to Fox News articles!
WATERLOO, Ontario – The iPad had a giant leap on the tablet world, but the competition is about to get stiffer.
Research In Motion (RIM), the maker of the popular Blackberry line of smartphones, said Tuesday its long-awaited BlackBerry PlayBook tablet will go on sale from April 19 at 20,000 retail outlets in the U.S. and Canada at a starting price of $499.
The tablet was to be sold in all Best Buy stores and Best Buy Mobile stores in the U.S. and at Best Buy and Future Shop stores in Canada. The company said it would let customers place orders for the new tablet immediately.
The BlackBerry PlayBook with Wi-Fi will come in three models, featuring 16GB, 32GB or 64GB of storage at $499, $599 and $699 respectively.
But it's hardly the first competition for the iPad, and until reviewers are able to test it, it's hard to say which is the best competitor.
Motorola Xoom
It was voted Best of CES and for good reason. The Motorola Xoom is the tablet most likely to give Apple's iPad a run for its money. It won't hit the market until March 27, but the Xoom will be the first tablet running Google's Honeycomb operating system -- the forthcoming version of the Android OS that's made explicitly for tablet-style devices.
Android fans are salivating over the Xoom's specs, too: It runs on Verizon's lightning-fast 4G LTE network, has 32GB of storage, two cameras, HD video capture, an SD card slot and a 1GHz processor, plus it's upgradable from 3G to 4G, meaning you can use it on 3G now and then on 4G when the faster network becomes available in your area.
Samsung Galaxy Tab
Unlike the first-gen iPad, the Samsung Galaxy Tab -- which shares many of the same features as the Galaxy S smart phone launched last summer -- has front- and back-facing cameras for video conferencing. Just like the popular Galaxy S smartphones, the Galaxy Tab includes Samsung's Social Hub application and the new Media Hub content service, offering premium movies and TV episodes from some of the biggest entertainment companies.
It runs on Google's fledgling Android operating system, which has taken significant marketshare from Apple, and has access to some 80,000 applications on the Google apps store.
The Rest
Those aren't the only competitors out there, of course. Toshiba unveiled its Folio 100 tablet last year, which has a 10-inch screen and sells in Europe, hte Middle East and Africa. Toshiba's tablet uses an Nvidia processor and Google's Android operating system.
Huawei's first tablet, a 7-inch screen also running Google's Android software, reached consumers in Europe in time for the holiday sales season, at a substantially lower price.
And the market for low-cost clones promises to grow and grow as the year goes on. Apple has ruled the tablet market with the iPad since its launch last year. But how long can it hold that position?
RIM's announcement came after Apple's high profile launch of the iPad 2 on March 11 and prior to Motorola's Xoom Wi-Fi tablet hitting stores on March 27.