ASUS Taichi Hands-On: Two Screens, One Windows 8 Ultrabook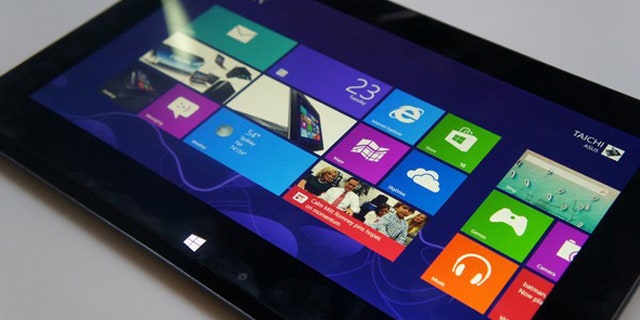 Are two screens better than one? ASUS is hoping to answer that question with its newest ultrabook, the ASUS Taichi. Instead of placing a decorative pattern on the back of its notebook lid, ASUS doubles the users' pleasure with an additional 11.6-inch touch screen that can we used as a tablet or as the ultimate presentation monitor for someone sitting across from you.
We had a chance to go hands-on with a Taichi and switched between its four modes (Notebook, Tablet, Mirror and Dual Screen) using a blue button in the function key row. There was a 2-3 second delay before the top display responded. Both multitouch 11.6-inch displays are IPS 1080p which made Windows 8's Modern UI and its colorful Live Tiles pop. When we visited Laptopmag.com, text was crisp and very easy to read. The screen responded to all our gestures quickly, summoning the Charms menu and Recent Apps bar when we swiped in from left or right or closing apps when we swiped all the way down.
Weighing a little under 3 pounds, the Taichi cuts a lithe figure that's sure to turn heads and it will easily slip into most messenger bags. However we're a little concerned about the back display and whether it is durable enough to withstand everyday wear and tear.
Available in November, the $1,299 Taichi will feature an Intel Core i5-3317U CPU, 4GB of RAM, a 128GB SSD and a Intel HD Graphics 4000 GPU. The notebook has a pair of USB 3.o ports, microHDMI, VGA, a dual microphone/headphone jack and a backlit keyboard. It will also feature Bang & Olufsen ICEpower technology, so were are hoping for audio comparable to the ASUS N56VZ-DS71.
Stay tuned for our full review of the ASUS Taichi ultrabook.