Apple smacks Facebook over Web tracking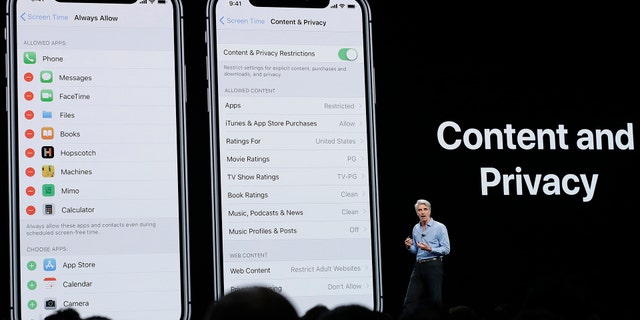 Apple ramped up its data privacy efforts at the company's Worldwide Developers Conference and took aim at Facebook, the latest sign of a brewing battle between the iPhone maker and the social network.

During WWDC, Apple announced several new privacy features as part of its iOS and macOS operating systems, including one known as Screen Time. Available for iOS 12, Screen Time will let users see how much time they spend on their phone, what apps they are spending the most time in and provide detailed reports to understand how they are spending their time. Users can also set time limits for apps and when time is up, they are notified.
Parents can also set limits, using "Allowances" to give their children certain amounts of time on their devices.
APPLE HITS HARD ON PRIVACY, MEMOJI IN NEW IOS UPDATE
Privacy is paramount
In the image below, Apple called out social networking as a way users are spending time on their devices and even specifically mentioned Facebook-owned Instagram as an example of an app that iOS users may see among their most used.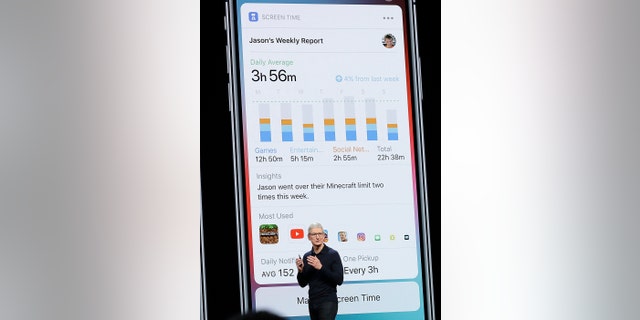 When asked by CNN's Laurie Seagall in an interview if Apple was directly focusing on Facebook, Cook denied it, saying, "We're not focused on any singular company."
Cupertino, Calif.-based Apple has repeatedly said that "privacy is a human right," a theme it reiterated with a new feature for Safari – available on Mac and iOS devices, including iPhones and iPads – that will shut down the tracking of online user behavior, unless the user decides to allow it.
"In Safari, enhanced Intelligent Tracking Prevention helps block social media "Like" or "Share" buttons and comment widgets from tracking users without permission," Apple wrote in a statementannouncing the new macOS Mojave, a clear dig at Facebook.
Facebook is widely known for its "Like" button, created by Justin Rosenstein, an early Facebook engineer. Late last year, Rosenstein wrote that he now considers the "Like" button to be "time poorly spent."
As part of the new desktop operating system, which will be a free update to users available this fall, there will be new privacy settings for users' microphones, cameras and Safari data, following similar enhancements for contacts, photos, calendars and reminders.
Apple also intends to crack down on data companies (its phrasing for companies like Facebook and Google) identifying specific devices (a practice known as fingerprinting), based on that device's settings, installed fonts and plug-ins and track where it goes around the internet. Instead, Apple will send out generic information to make all Apple devices look alike.
"Think of it this way: Apple's announcement is like putting a veil in front of users," Carlo Cadet, Director of Product Marketing at Perfecto told Fox News via email. "The number of attributes you can measure about an individual go down, making everyone look more generic, ultimately lowering personalization levels."
Cadet added he thinks Apple may be "creating a new value proposition," catering to those who deeply value their privacy and lead them to say, 'Apple may be a better machine for me'."
APPLE WWDC: APPLE UNVEILS MEMOJI, NEW PRIVACY FEATURES AND MORE
Business model at stake
Unlike Facebook and Google, Apple doesn't depend on online ads dictated by data about a user's interests. Instead, Apple generates most of its revenue from device sales.
Apple's announcement, which follows a similar one from Google, comes as Facebook acknowledges it struck data-sharing deals with at least 60 device makers, including Apple. Facebook insisted there was nothing scandalous and said the deals were designed to make it easier for people to use Facebook features without opening its app or website.
Monday's prodding was just the latest example of something larger brewing between the two companies, whose combined market cap is approximately $1.5 trillion.
When Cook gave an interview with Recode's Kara Swisher and MSNBC's Chris Hayes at the end of March he was asked what he would do if he were dealing with the problems Facebook and Zuckerberg were currently dealing with, specifically the Cambridge Analytica scandal. Cook succinctly replied: "I wouldn't be in this situation."
During the same interview, Cook explained that Apple does not make the majority of its money off online ads. The tech giant could "make a ton of money if customers were our product. We have elected not to do that."
A few days later, speaking at the annual China Development Forum in Beijing, which he co-hosted, Cook called for "well-crafted" regulations to prevent the information of users being put together and then utilized in ways that they did not know about or approve of.
MARK ZUCKERBERG'S NOTES PHOTOGRAPHED, SHOW HE WAS READY TO PUNCH AT APPLE IF CONGRESS PUSHED HIM
Zuckerberg fires back
In an April 3 interview with Vox, Zuckerberg said Cook's comments were "extremely glib and not at all aligned with the truth."
He also took a jab at Apple's pricey products, warning customers to be wary of "Stockholm syndrome."
"I think it's important that we don't all get Stockholm syndrome and let the companies that work hard to charge you more convince you that they actually care more about you. Because that sounds ridiculous to me," Zuckerberg said.
Later that month, Zuckerberg appeared before Congress to discuss the Cambridge Analytica scandal and was prepared to go after Cook if he was asked about the Apple exec's comments.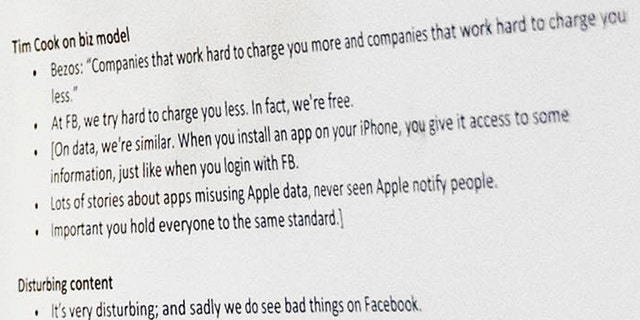 Pictures of his notes showed a mention that there are "lots of stories about apps misusing Apple data, never seen Apple notify people" and it is "important you hold everyone to the same standard."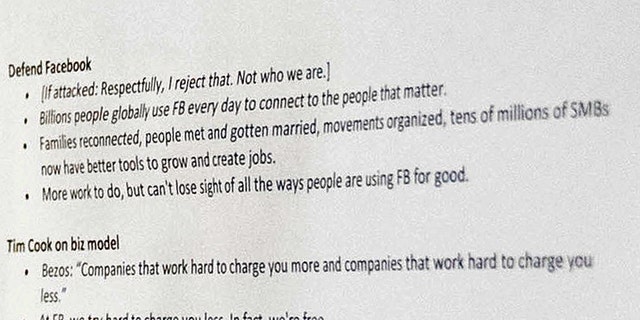 The notes also referenced a mantra from Amazon CEO Jeff Bezos, who has said there are "[c]ompanies that work hard to charge you more and companies that work hard to charge you less." Zuckerberg would follow that up by saying, "At Facebook, we try hard to charge you less. In fact, we're free," a dig at what some see as Apple charging high prices for its devices.
The Associated Press and Fox News' Christopher Carbone contributed to this report. Follow Chris Ciaccia at @Chris_Ciaccia