Zlatan Ibrahimovic has 'significant knee ligament damage,' Manchester United confirm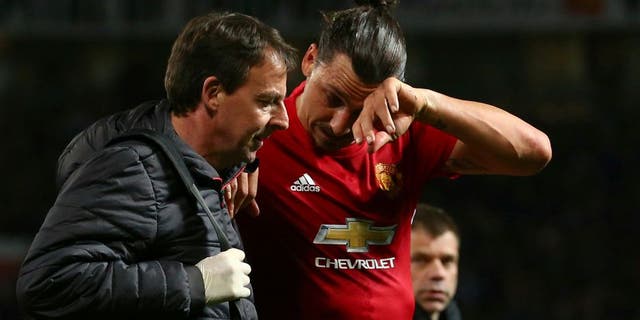 NEWYou can now listen to Fox News articles!
The fears of Manchester United fans were confirmed on Saturday as the club announcedZlatan Ibrahimovic sustained "significant knee ligament damage" in an injury that occurred earlier this week.
Jose Mourinho's initial prognosis on the striker was "fairly negative," and those early concerns have been justified. Ibrahimovic left the Europa League quarterfinal win over Anderlecht just before the whistle for the end of regular time. United went on to win in extra time without their star forward, and it looks as though they'll have to get used to that for a while now.
Recovery timetables for Ibrahimovic and teammate Marcos Rojo, who also sustained a significant knee injury in the match, are unknown at the moment. The club said both players are set to see specialists before treatment and recovery plans are decided.
Various reports have pegged his time out for anywhere from a couple months to a year, but it's too early for an exact timetable. What is known is that Ibrahimovic won't feature in the immediate future. If he's done for the season, Ibrahimovic would miss seven Premier League matches and at least both legs of the Europa League semifinals.
Without Ibrahimovic, the Red Devils will likely turn to youngster Marcus Rashford and Anthony Martial to pick up the slack. Mourinho also has Wayne Rooney available to call upon, but the Englishman hasn't featured much this season.
MORE FROM FOX SOCCER