Yogi Ferrell hits nine threes, game-clinching shot in epic performance vs. Portland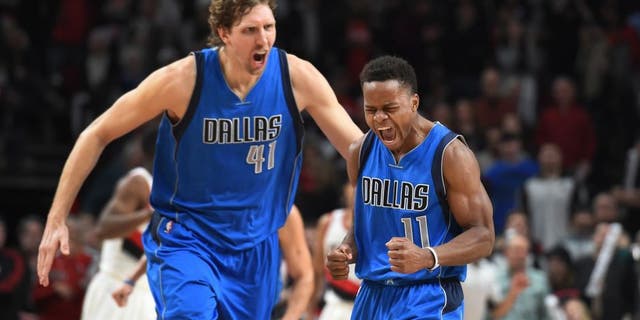 "Never judge a book by its cover" -- it's what everyone told us growing up. And in the case of 6'0" munchkin Dallas Mavericks guard Yogi Ferrell, his success in a dramatic 108-104 victory over the Portland Trail Blazers on Friday night was the epitome of it.
One week ago, Ferrell was signed to a 10-day contract by the Mavericks after the team released guard Pierre Jackson. Ferrell knew how Jackson felt, as Ferrell was cut loose from the Nets on Dec. 8. Now seven days into the 10-day contract, Friday's game vs. Portland was one of the last chances Ferrell was going to have to showcase his talents in hopes of obtaining either a second 10-day contract or one that employed him for the remainder of the season.
Boy, did he make the most of it...
Going up against one of the league's premier point guards in Damian Lillard, Ferrell finished with 32 points (11-17 FG) and fives assists in 39 minutes, hitting NINE three-pointers in 11 attempts -- the last of which iced the game for Dallas:
Yogi was feeling it all night, even going as far as dropping a MICHAEL JORDAN SHRUG in the first half:
And asking to be fed more, even after the final buzzer:
Yogi reiterated his excitement to the media during postgame press conferences:
The joyous night for the Mavericks didn't end there -- the W in Portland gave coach Rick Carlisle his 400th victory with the franchise, and veteran legend Dirk Nowitzki moved into 11th place on the NBA's all-time field goal list with this clutch fourth-quarter bucket:
All hail Yogi Ferrell and the great Dirk Nowitzki! For one night, at least...