Yasiel Puig homers, flips off Indians fans and then explains the obscene gesture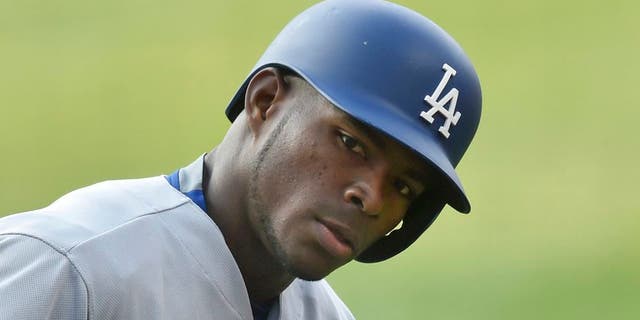 NEWYou can now listen to Fox News articles!
The Dodgers Yasiel Puig circled the bases after hitting his 10th homer of the season in Cleveland on Tuesday night, then gestured to a group of Indians fans that they were No. 1. Only he didnt use his index fingers.
Apparently, Puig didnt appreciate the Indians fans who didnt appreciate his homer, which put the Dodgers ahead 2-0 in a game they would win 7-5.
Heres the homer (minus the gesture):
Asked about the incident after the game, Puig didnt deny a thing. From the Los Angeles Times (via Puigs translator):
People were talking to me before the home run, and after the home run, they kept talking, Puig said. I reacted that way, and stooped to their level.
It happened suddenly, Puig said. It was something that just came out.
Puig, whose past issues with focus, inconsistency and demeanor have resulted in everything from a decrease in playing time to a minor-league demotion, has been on his best behavior this season until Tuesday. As for his teammates, the Los Angeles Times reports they laughed about the double bird gesture in the clubhouse following the win.
Still, theres a strong chance Puig will be hearing from the league office about a fine and/or suspension.
In 61 games this season, he is hitting .239/.313/.418 with 10 homers and 33 RBI.