XFINITY Series title contenders Ty Dillon, Regan Smith, Chris Buescher discuss 2016 plans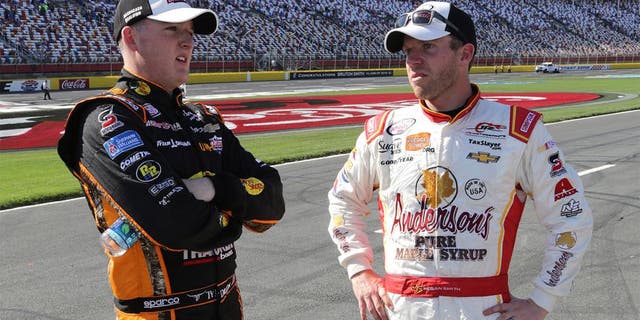 NEWYou can now listen to Fox News articles!
Separated by no more than 24 points, Chris Buescher, Chase Elliott, Ty Dillon and Regan Smith all have a mathematical shot at becoming the 2015 NASCAR XFINITY Series champion in Saturday afternoon's season finale at Homestead-Miami Speedway.
At least something is certain for the quartet of title contenders.
As for each drivers' plans for 2016, some rather significant details remain to be ironed out.
Buescher, who leads the XFINITY standings by 18 points over second-place Elliott, doesn't yet have a deal in place to return to Roush Fenway Racing for another XFINITY season.

"I would have loved to have had it done about a month ago," Buescher, 23, told FOXSports.com during a teleconference on Wednesday afternoon with the other three XFINITY title contenders. "It's been a little bit stressful from that standpoint, just haven't really gotten the answers I was hoping for. Haven't really gotten sponsorship stuff worked out for next year like we were hoping for. We have some partial stuff that could work in the Cup Series or the XFINITY Series. We have different scenarios working out, but nothing is even close to the point of finalizing that that I can even talk about. I honestly don't have a good answer as to where it's going next year."
If anything, Buescher seems to have less clarity about his immediate future now than he did just recently.

"I felt better about it three weeks ago, and since then things have taken a lot of turns," he said. "Trying to figure it all out right now."
Dillon, the youngest grandson of team owner Richard Childress, revealed on Wednesday that he will be back for a third season in the XFINITY Series. Plans for a possible full-time Sprint Cup schedule in 2016 remain unsettled, however.
"I am expecting to run a full XFINITY again next year with most of the same sponsorships, along with trying to put together a full Sprint Cup program," said Dillon, who has made select Cup starts in 2015. "I know for sure I will be in the XFINITY Series."
Smith, who recently learned that he will be replaced next season by Elliott Sadler at JR Motorsports, had nothing to report.
The 32-year-old XFINITY Series veteran and former Sprint Cup driver is considered a possible candidate for Richard Petty Motorsports' No. 9 Sprint Cup Series car being vacated after Homestead by Sam Hornish Jr., who is being released by the organization.
"I have not solidified any of my plans for next year yet, so kind of all options are possibilities right now, and kind of everything is on the table at the moment," Smith said on Wednesday.
Elliott, the 2014 XFINITY Series champion, is set to replace Jeff Gordon next season in Hendrick Motorsports' iconic No. 24 Chevrolet, but admitted on Wednesday that he would also like to compete in the XFINITY Series on a limited basis.
Any such plans have not been finalized, however.

"We don't have next year on the XFINITY side worked out yet," Elliott said. "I don't expect it to be racing fulltime. I would love to run some races if an opportunity presents itself, but nothing has been ironed out or worked out yet, so it's obviously pending sponsorship. But no, it will not be fulltime."