World Cup to use VAR technology for first time: What is it?
The 2018 World Cup in Russia will make history as it's the first time video assistant referees (VAR) will be used to aid those officiating in the tournament.
While 32 teams vie for the FIFA World Cup trophy, certain officials will be relegated to two small rooms just outside of Moscow, tasked with watching video monitors of the matches. During the World Cup, these rooms will hold four video assistant referees per match and 15 screens that can show 33 different camera angles.
It will be the chief video assistant referee who makes the final decision on calls. That official will also have the help of an assistant who specializes in offside, one who monitors the video feed during deliberations and another who can check for errors. All refereeing officials are men.
2018 FIFA WORLD CUP: WATCH LIVE MATCHES STREAMING ON FOX SPORTS FROM JUNE 14 TO JULY 15
Other sports have utilized video technology to assist referees, but this will be the first time the World Cup has used the practice. Read on for a look at what it is and why it's being implemented.
How will using VARs impact games?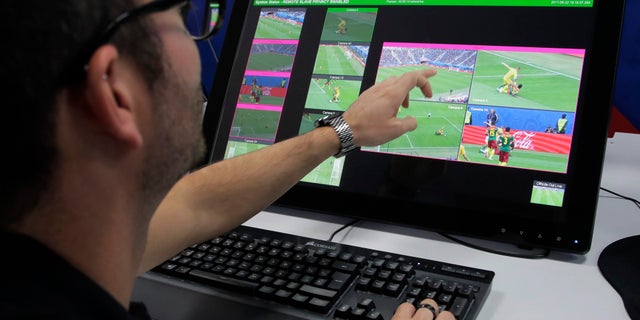 With this technology, referees will be able to call for reviews of possible clear errors and serious incidents missed in game-changing situations, such as goals, penalty awards and red cards. It will also be used in cases of mistaken identity.
To call for a video review, a referee will make a box symbol with his hands, according to CBS Sports. But it's still up to the head referee, who will be in the referee review area during this time, to make the final call based on what the VAR captured.
"The goal of VAR is to avoid major mistakes," said FIFA referee chief Pierluigi Collina. "The objective is not to have clear and obvious mistakes committed on the field of play. This is the target, the goal is not to re-referee the match using technology."
"There will continue to be incidents when a final answer will not be given and there will be different opinions," he said.
A GUIDE TO THE WORLD CUP STADIUMS
Replays will be shown on giant screens in the stadiums after a VAR decision is made, according to Fox Sports. There will also be someone who will convey the decisions to stadium personnel and television commentators.
Two extra cameras will be installed at matches for offside decisions.
What about the time it takes from the games?
Ahead of the World Cup, FIFA officials assured referees they have the ability to take as much time as needed to review a play because the time lost will be added back at the end of the match.
"We don't want to lose any seconds lost by any interruption," Massimo Busacca, head of refereeing for FIFA said during a press conference.
WORLD CUP 2018 TEAMS TO WATCH, FROM GERMANY TO ICELAND
Because time won't be wasted, referees could call for more decisions to be reviewed -- and even overturned -- than expected.
What is so controversial about it?
Some soccer fans are against the use of VAR as they think it kills the spirit of the game. But FIFA hopes the system will stop fans from griping about biased, incompetent or corrupt referees -- even as one Saudi referee was recently dropped from the World Cup after being banned for life in a corruption case.
It's already been debuted in some leagues, including Germany's Bundesliga and Italy's Serie A.
The Associated Press contributed to this report.