Women's World Cup: Abby Wambach, top all-time female scorer, still hungry for title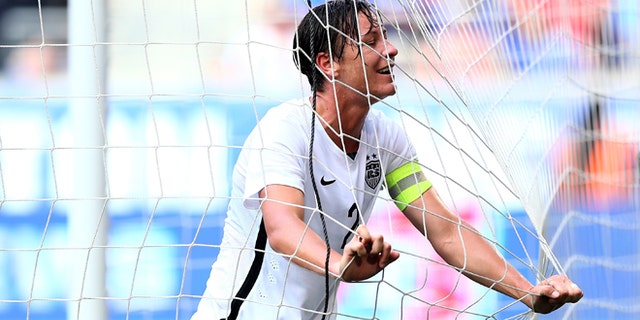 New York, N.Y. – When her teammates are asked to describe Abby Wambach's worth to the U.S. women's national soccer team, the superlatives flow:
Fierce.
Intense.
Resilient.
Legend.
And, maybe the most important one: champion.
"She just gets it done," said midfielder Carli Lloyd. "When the going gets tough, the leaders step up. She does it."
Goalkeeper Hope Solo said, "She's a plain winner … For me she is the best teammate because she knows how to win, and she'll do whatever it takes."
Abby Wambach has done plenty of winning during her illustrious, 15-year professional career.
She is, of course, the all-time scoring leader at the international level with 182 goals in in 241 matches, and counting.
She teamed with Mia Hamm and helped the Washington Freedom to capture the last Women's United Soccer Association title in 2003.
She was a vital part of two Olympic gold-medal winning teams in 2004 and 2012. (She missed the 2008 Olympics with a broken leg.)
The Rochester, N.Y., native also was named the 2012 FIFA women's world player of the year.
And she has the respect and admiration of teammates and foes alike.
Abby Wambach has accomplished just about all there is to achieve in the world of women's soccer – everything except winning that elusive World Cup.
In Wambach's first Women's World Cup in 2003, the Yanks finished a disappointing third to eventual champion Germany. In her second appearance, the Americans also were eliminated in the semis – it was the notorious game in which then-Team USA coach Mike Ryan decided to start Brianna Scurry instead of Solo against Brazil, resulting in the most embarrassing loss, 4-0, in U.S. women's history.
And in 2011, Wambach finally reached the final, but the Americans fell to Japan in penalty kicks.
So, how much does Wambach want and/or need a winner's medal from this summer's Women's World Cup in Canada?
More than anything.
"My agent's here and he probably would kill me for saying this, but, right now, you're damn right I need it," Wambach said during US Soccer media day in Manhattan recently. "It's all that I'm thinking about. It's all that's on my mind. It's the thing I haven't been able to be a part of – I haven't won yet."
The legendary striker went on, "It's something that I know all of us have to be willing to be forever disappointed not winning because that's what it takes. You have to completely give in to it, to allow yourself to be crushed by something. It's like love. If we give into it – if all of us give into it -- then I think we can have a chance."
Wambach's career has been defined by talent and passion – and not always in that order. She throws her body into every play she is involved in, and today, having turned 35 last week, she is paying the price.
Battered and bruised, Wambach decided to forgo playing in the National Women's Soccer League this season to focus on Canada. Whether it pays off, it remains to be seen. Team USA kicks off its quest for international glory against Australia in Winnipeg Monday night.
Thirty-five is old for a World Cup player, man or woman. For a striker, it is considered ancient. So U.S. head coach Jill Ellis has devised a strategy to utilize Wambach's strengths and give her aging body some rest. That may mean starting the Rochester, N.Y., native on the bench for a game. Or two. After all, if things go according to plan and the U.S. reaches the final, the team will play seven games in the course of 30 days.
"Abby is very important to our success in Canada, both on and off the field," Ellis said. "I have been very pleased [because] she brings so much experience, leadership, goal-scoring presence, scenario presence. There are so many things that you can stick on Abby. She is prepared for any role. She is incredibly professional. Whether she's starting or coming off the bench, I know she'll be ready."
Ready for a world championship, that is.
It has been 16 years since the U.S. won a Women's World Cup, which should be motivation enough.
"Obviously, winning is one of the biggest catalysts of positive growth for anything," Wambach said. "We have an experience winning a World Cup and see what type of growth can take place after doing so. For us, that's a challenge."
She added, "We've got to win seven games."