Without Messi, Barcelona to depend on Neymar, Suarez to continue winning streak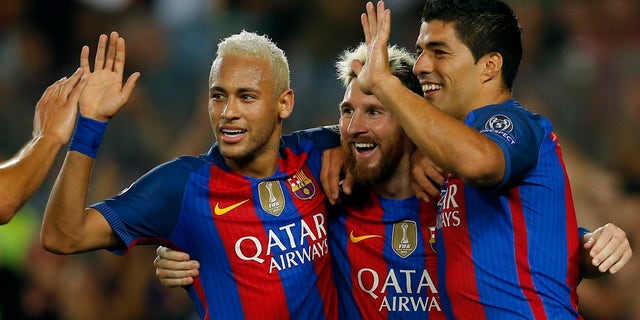 MADRID (AP) – Neymar and Luis Suarez will lead the attack again when Barcelona visits Borussia Moenchengladbach in its first Champions League game since losing Lionel Messi to an injury.
The two forwards led Barcelona to a 5-0 win at Sporting Gijon in the Spanish league on Saturday, when Messi was already sidelined because of a groin ailment, and on Wednesday they will try to help the Catalan club end Moenchengladbach's 11-game winning streak at home in all competitions.
Neymar has scored four goals in the last four matches, while Suarez has eight goals in his nine games this season.
Barcelona has won only once in its last six matches against Bundesliga teams in Germany.
Another German club with an important match against Spanish opposition is Bayern Munich, which plays at Atletico Madrid in a rematch of last season's semifinals.
Here's a look at Wednesday's matches in the Champions League:
___
GROUP A
Three months after playing against each other at the European Championship, the Xhaka brothers meet again.
Granit Xhaka should line up for Arsenal against his older brother Taulant, a defender for Swiss team Basel. At Euro 2016, Granit played for Switzerland while Taulant featured for Albania after switching his international allegiance in 2013.
Both teams started with 1-1 draws, although Arsenal got the result at Paris Saint-Germain in possibly the English team's toughest match in the group.
Basel, which beat Chelsea and drew at both Manchester United and Liverpool in the past five seasons in European competition, is leading the Swiss league by 13 points thanks to its 100 percent domestic record.
PSG, still without injured winger Hatem Ben Arfa, is away to Bulgarian side Ludogorets Razgrad.
___
GROUP B
Napoli was the only group winner in the opening round and has a chance to solidify its lead when it hosts Benfica.
The Italian side will be relying on 22-year-old Poland forward Arkadiusz Milik, who has filled in admirably after Gonzalo Higuain's Italian-record transfer to Juventus for 90 million euros ($99 million). He scored both goals in the comeback win at Dynamo Kiev and added two more two-goal matches in Serie A.
In Napoli's previous Champions League appearance in 2013-14, the club won all three of its home matches against Borussia Dortmund, Marseille and Arsenal, yet still failed to advance despite collecting 12 points — more than any other side that has missed the qualification cut.
Benfica, which conceded a late equalizer to Besiktas at home in its opener, is likely to remain without forward Jonas because of an injury.
Dynamo Kiev will try to rebound at Besiktas.
___
GROUP C
Barcelona goalkeeper Marc-Andre ter Stegen will be making an emotional return to his hometown of Moenchengladbach.
"I absolutely cannot wait for it," he said. "I had a great time there and spent my entire career there apart from the last two years. Borussia is my first love and that will always be the case."
Ter Stegen made 108 Bundesliga appearances for Borussia from 2011-14.
Celtic lost 7-0 to Ter Stegen's Barcelona in the opener, and things don't get much easier for the Scottish champions.
Next up for Celtic is Manchester City, which is on a 10-match winning run under new coach Pep Guardiola. One of its best performances so far was a 4-0 win over Borussia Moenchengladbach.
City will be without one of its leading players, Kevin De Bruyne, because of a hamstring injury.
___
GROUP D
Bayern's last three trips to Spain all ended in defeats and elimination in the semifinals of the Champions League. It happened against Real Madrid, Barcelona and Atletico Madrid, its opponent again on Wednesday.
Captain Philipp Lahm downplayed any talk of revenge for the match at the Vicente Calderon Stadium.
"We can't make up for the loss last season," he said. "Our job is to get points and then we could speak about a good start to this year's campaign. But we know what to expect and it won't be easy."
Bayern and Atletico won their opening matches and will be fighting for first place in the group.
Bayern has won all eight matches under Carlo Ancelotti, the best start for a new Bayern coach. Ancelotti was in charge of Real Madrid when it beat Atletico in the 2014 final.
Atletico will be without midfielder Augusto Fernandez, who tore a right knee ligament in the Spanish league on Sunday.
Rostov hosts PSV Eindhoven in Russia in the other group match.
Like us on Facebook
Follow us on Twitter & Instagram