With Mark Sanchez as backup, Dallas Cowboys keep options open on Tony Romo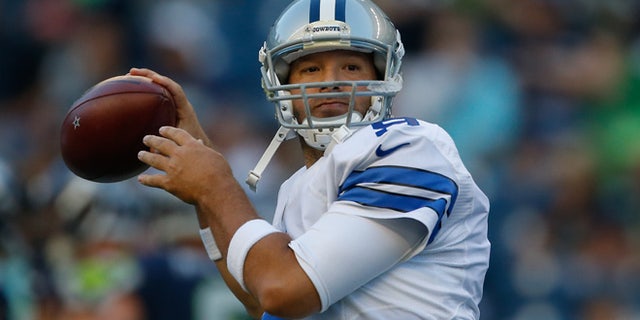 NEWYou can now listen to Fox News articles!
FRISCO, Texas (AP) – The Cowboys have signed Mark Sanchez as a backup quarterback and are keeping their options open with the injured Tony Romo.
Dallas added Sanchez to the 53-man roster on a one-year contract Sunday while waiving Jameill Showers with the likely intention of adding the second-year player to the practice squad if another team doesn't claim him.
Rookie Dak Prescott is set to start the opener Sept. 11 against the New York Giants, but the key to the quarterback puzzle remains Romo, who broke a bone in his back in a preseason game against Seattle.
The Cowboys can put him on the injured reserve-return list, which would free up a roster while sidelining the 36-year-old for the first seven games.
That's an ominous number for Dallas because it's how many games Romo missed after he broke his left collarbone the first time last season. The Cowboys lost all seven games before Romo broke the same collarbone and missed four more. Dallas finished last in the NFC East at 4-12 a year after winning the division.
If Dallas decides to keep Romo on the active roster, he can return whenever he's ready. The Cowboys haven't said how long he will be out following his fourth back injury in less than four years.
Prescott had a strong start to the preseason after Kellen Moore broke his right ankle in practice at training camp, and the Cowboys ultimately decided to give their fourth-round pick the backup job.
After holding off on adding a veteran following Moore's injury, the Cowboys knew they would have to add one once Romo got hurt.
Showers, who spent most of last season on the practice squad, was spotty in his best shot at an audition while playing the entire preseason finale against Houston. But he has versatility because of his work on special teams in practice last season, making him an attractive option for another year in a similar role.
Tight end Rico Gathers, the former Baylor basketball player trying to make the transition to football, was among seven players who cleared waivers and were added the practice squad.
Defensive end Ryan Russell and receiver Vince Mayle, both second-year players, made the practice squad. So did four rookies: center Jake Brendel, receiver Andy Jones, linebacker Deon King and tight end Austin Traylor.