With John Walsh in the Saddle, Polo Returns to Miami Beach with a Kick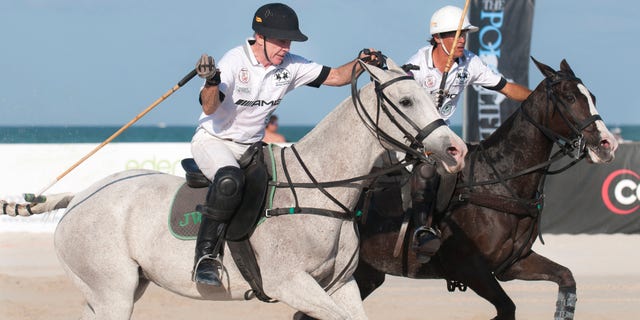 John Walsh, host of 'America's Most Wanted', comes off the polo field, holding his helmet in one hand and his mallet, like a sword, in the other. His formerly white AMG jersey is covered in sweat, and bits of sand.
" It's like a street fight out there," says Walsh as he sits down on the sidelines between "chukkers"-- the six periods of play during a one-hour match.
"It's a real equestrian discipline," Walsh says later about the sport. "I think you have to have the power and the passion. It is a high adrenaline sport. It is exciting and it is somewhat dangerous."

During one ride off with an opponent, his chin was accidentally hit by an opposing player's swinging mallet head, Walsh says as he rubs his face.
Organizers of the AMG Miami Beach World Cup, considered one of the top beach tournaments in the world, hope that Walsh's famous face will also help promote their sport as they look to expand their American audience.
According to Bruce Orosz, who produces the South Beach event, now in its seventh year, nearly 15,000 people are expected to attend the tournament over its four-day span -- a definitive increase from last year's tournament.
"He is a legend to many of us, not only here but around the world, "Orosz says during a press conference about Walsh.
An avid polo aficionado and player in West Palm Beach, Virginia and in New York, Walsh is playing in this prestigious beach polo tournament for the first time largely because the proceeds will go to two charities close to Walsh's heart, Big Brothers and Big Sisters, and Walsh's own National Center for Missing and Exploited Children that was created after his son, Adam, was abducted and murdered, 30 years ago in Florida.
" It grew out of Adam's death. The National Center grew out of that. Our first branch was in West Palm, now there is a big building in Washington DC," Walsh says.

The turbulent experience lead Walsh away from hotel development in Florida to hosting his highly-rated show on Saturdays, 'America's Most Wanted' on the FOX broadcast network, which Walsh says is now credited with helping in the capture of over 1,200 dangerous fugitives.
Playing polo has been a welcomed respite and outlet for Walsh, who has played all over the world, including Argentina, which he describes as the polo capitol of the world.
"Anybody can play polo -- I think you just have to have the desire and the passion. It is exciting." Walsh says it is not sport just for the elite.
"You don't have to be owner of a Mercedes Benz and have a hundred horses," he said.
Walsh also points out that polo is popular in parts of Latin America, a region where his show is broadcast and receives high ratings.
"People all over South America love polo and they understand the challenge and the athleticism, " Walsh says. " In Buenos Aires, they cheer for the individual horse as much as they do for the players. They know polo, like they know soccer."
Walsh is developing a new show for distribution in Latin America that will be tentatively called "The World's Most Wanted" where he will cover stories similar to his flagship show but will also deal with cases in Latin America and specific countries like Mexico, El Salvador, Argentina, Chile and Brazil.
"Latin America has their bad guys. Our garbage goes there, some of their garbage comes here. So I am working on a pilot called the "World's Most Wanted" for FOX, predominately for the Latin American audiences," Walsh says.
"Our show has huge support among the Latin American community. We are the highest rated show on FOX among Latin audiences."


*Fox News Latino and FOX broadcast network are owned by the same parent company.
Serafin Gómez is the Miami Bureau Producer for FOX News Channel.
Follow us on twitter.com/foxnewslatino
Like us at facebook.com/foxnewslatino