Will he or won't he? Rodgers takes some 1st team snaps for Packers, though still not cleared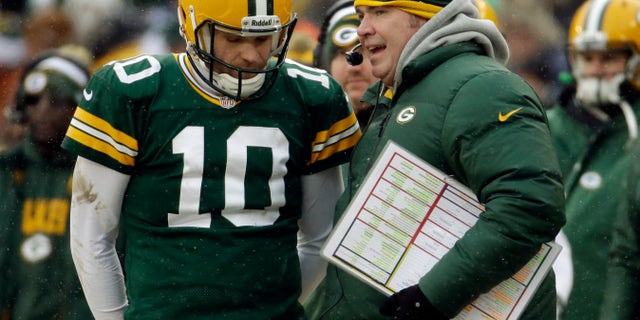 GREEN BAY, Wis. – Aaron Rodgers took some first-team snaps in practice Wednesday, though the Packers' franchise quarterback still hasn't been cleared to play in a game.
If that stands through the rest of week, backup Matt Flynn is back in for Rodgers when Green Bay visits the Dallas Cowboys on Sunday in a game critical to both teams' playoff hopes.
It's been a mixed bag of news this week for Packers fans anxious to find out when Rodgers will adorn the No. 12 jersey again in a game. The Packers are 1-4-1 since Rodgers fractured his left collarbone in a 27-20 loss Nov. 4 to the Bears, though they regained confidence following the come-from-behind, 22-21 victory last week over Atlanta.
"Twelve looked real good today. It was good to see him out there, really working with the offense," tight end Andrew Quarless said Wednesday. "He was out there before but wasn't working as much with the offense, but today he took some offensive reps, which is a great thing for the team, definitely."
Asked to clarify, Quarless said Rodgers did some work with the starters.
Don't get too worked up though, Titletown.
Coach Mike McCarthy didn't sound like someone Wednesday who was sure Rodgers is ready. The quarterback is still officially listed as "limited" in practice.
He is "the face of our franchise and until he's medically cleared, just like any other player going through a significant injury, that's really where the focus will be," McCarthy said.
Tuesday on his radio show on 540-AM ESPN in Milwaukee, Rodgers recounted his practice routine the previous week, when he said he felt pain while pushing him last Wednesday, Dec. 4. He said he then tried not to stress the collarbone the next two days.
While Rodgers has been hopeful of a relatively quick return, he has said that a normal healing cycle for someone with his type of injury was to six to eight weeks. Wednesday would be about five weeks since getting hurt.
McCarthy said he didn't notice Rodgers in any pain Wednesday.
"We'll see how he is tomorrow. We'll set a plan for him again tomorrow," McCarthy said. "Aaron still is not medically cleared. And that's really, I think it's important to stay in tune with that because the topic of 'Is he playing in the game' vs. 'Is he medically cleared' — those are two totally different issues."
Which brings the Packers back to Flynn, who can build off a mainly positive outing last week against the Falcons. He threw for 258 yards and the 2-yard touchdown pass to Quarless that put the Packers ahead for good.
Returning to Green Bay (6-6-1) about a month ago after Rodgers and previous backup Seneca Wallace were hurt in back-to-back weeks, Flynn is gradually getting comfortable again in McCarthy's West Coast system. He's benefiting from full weeks of practices after getting shelled following a short work week for the 40-10 Thanksgiving Day loss to Detroit.
Against Atlanta, Flynn was effective in the no-huddle offense. For the most part, he didn't force throws or take risky shots deep. He came up clutch in the fourth quarter with the touchdown pass that cashed in on a Falcons turnover.
"We had flow to our offense, rhythm to our offense that we really hadn't had consistently over the past month," McCarthy said. "Just trying to find that midpoint of doing things that we feel that we need to win on Sunday, but to make sure he's comfortable."
Sacks remain one big problem. Flynn shouldered blame after being taken down five times by Atlanta, and he thinks his increasing comfort level will help with hurdles like getting hung up too long on certain receivers.
But overall, Flynn is confident the team can succeed without Rodgers for the rest of the year, if need be, pointing to the complimentary football played Sunday as evidence.
"That's something good to build on. If you ask anyone in this locker room, everyone thinks we can win," Flynn said. "We just have to go out there and execute and prove it."
__
NOTES: RB Eddie Lacy missed practice Wednesday and will likely miss practice Thursday with a twisted right ankle. McCarthy estimates his starting running back should return Friday. ... Inside linebackers Brad Jones (ankle) and Jamari Lattimore (knee) also missed practice Wednesday, though McCarthy sounded optimistic about the prognosis for their injuries.
__
Online:
AP NFL website: www.pro32.ap.org
__
Follow Genaro Armas at http://twitter.com/GArmasAP