Will Brooks ready to beat any lightweight on the UFC roster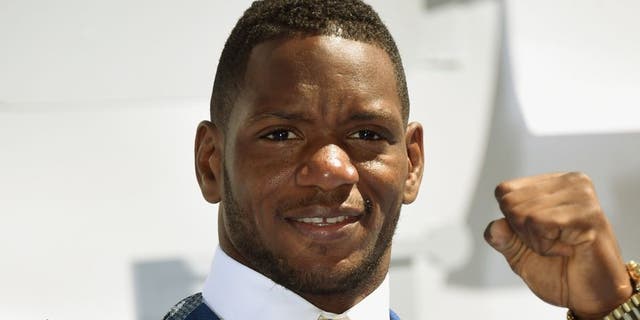 NEWYou can now listen to Fox News articles!
The last time Will Brooks stepped inside the MGM Grand Garden Arena in Las Vegas, he was there at UFC 195 to support his teammate and friend Robbie Lawler as he defended his welterweight title against Carlos Condit.
After walking through the hallways and the arena and seeing Lawler's photo along with pictures from other champions plastered on the walls, Brooks made a promise to himself that he wouldn't step back into that arena until he was finally part of the UFC roster.
On Wednesday, Brooks officially signed with the UFC and will now face Ross Pearson at "The Ultimate Fighter" Finale on July 8, which just so happens to take place at the MGM Grand Garden Arena.
"I was ecstatic, I'm very excited," Brooks told FOX Sports on Wednesday after signing with the UFC. "I'm a guy that never settles for anything so it's a very exciting time to be able to sign with the UFC but my work isn't done. I still have to go out there and compete and show people what I can do against a veteran of the sport Ross Pearson and then I just have to move forward to get to that title.
I'm not here to just sign up with the UFC to be that guy that goes 'hey, you guys know I fight for the UFC?'. I'm not trying to be that guy. I'm trying to be the guy that says you know I'm the (expletive) lightweight champion. -- Will Brooks
In his previous promotion, Brooks was the defending lightweight champion with nine wins in a row while becoming one of the most talked about fighters outside the UFC.
Make no mistake, Brooks is ready to finally step foot inside the world famous Octagon, but he wants to wrap a belt back around his waist and he's sending that message to every lightweight on the UFC roster.
"I'm going to walk around like a champion because I am a champion. Just because I left the other organization doesn't mean the belt doesn't stay around my waist. My belt is sitting up in my office right now and I'll continue to carry myself as a champion," Brooks said.
"If you get into this sport and you get in these higher up promotions and you're not driven and you're not focused on being a champion, I don't know what you're doing this for. I want to be the king of the hill.
There's nobody that can do anything about that. I'm just looking for the opportunity to add another belt to my collection and that's it. -- Will Brooks
Brooks was ready to accept a challenge against any of the top five lightweights in the world for his debut, but he's just as happy to face a veteran like Pearson on July 8.
Pearson is well known for his heavy hands and Brooks is ready to prove that he can go toe-to-toe with the best strikers in the world or anybody crazy enough to go to the ground with him.
"I pay attention to a lot of things people are saying. I think a lot of people have been having a few questions about my striking ability, about my finishing ability. This is a great opportunity to put that on display," Brooks said. "It's an opportunity to finish a guy because Ross Pearson is always going to be moving forward, he's only going to want to strike with me, he's not going to be looking for any kind of wrestling, but I am going to fight a mixed martial arts fight. I will be looking for a finish.
"It's something that I've been working extremely hard on in the gym. Working with different coaches, mixing up my training partners, working very closely -- and I'm about to name drop so hard right now -- working with Robbie Lawler every other day to kind of soak up his mindset and some of his tricks of the trade."
Once he's done with Pearson, Brooks is serving notice to every top 155 pound fighter that they are on his list of possible opponents as he plots a course towards a UFC title shot.
Brooks knows the lightweight division arguably the deepest weight class in the sport, but he's excited to jump into the deep end and swim with the sharks.
I look at those guys and I see a bunch of talented guys, but at the end of the day, I think I can beat any of them. -- Will Brooks
"I can beat any of them at any time, any place or anyway, in every aspect of mixed martial arts," Brooks said. "I go above and beyond when you put guys like Tony Ferguson, Khabib (Nurmagomedov), RDA (Rafael dos Anjos), Eddie Alvarez, all these high level guys and when you put these high level guys in front of me, you'll get the best Will Brooks you've ever seen. I'm usually pretty damn impressive when it happens."
Needless to say, Brooks is ready for his moment on July 8 and he's even been preparing for all the little things that go along with a UFC contract. Whether that means his post fight interview or the way he's going to walk to the Octagon, Brooks isn't leaving anything to chance ahead of his UFC debut.
"I've been practicing. I've been practicing talking to Joe Rogan. I've been getting ready for the open workouts. For everything," Brooks said. "How I'm going to strut out to the weigh-ins. Everything. I like being prepared for every single aspect of every part of life. That's what I'm getting ready for. I'm excited."