WIDE WRITE: Championship Week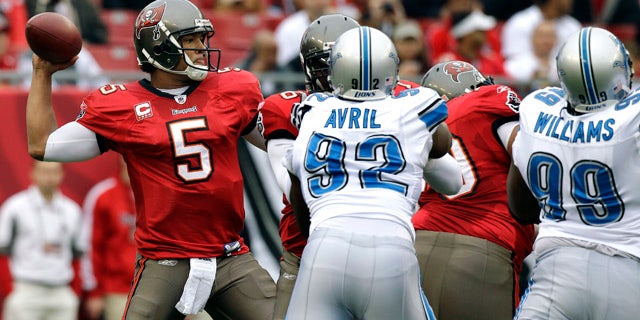 NEWYou can now listen to Fox News articles!
Championship games are being held this week in most fantasy leagues. As we've noted in previous seasons, assuming that most leagues include 12 teams, only two of them still care, so this article is unlikely to be seen by more than 16.6 percent of its usual readership. Ho, ho, ho!
As noted all year long, each position below will have a list of weekly "must starts" to go along with the usual recommendations. They're players that warrant "no-think" fantasy status due to talent, workloads or both, regardless of opponent. The lists are subject to change, but additions and deletions will be made sparingly. Also, if a player is ever "removed until further notice," it doesn't mean you need to bench him; it just indicates that his status has become a week-to-week proposition that depends on the rest of your roster.
If you disagree with any of the selections, or want to offer some of your own, please post a comment at the bottom of the page. We'll be here every Thursday until the end of your fantasy season.
Thursday and Saturday games: The Panthers visit the Steelers on Thursday, while the Cowboys travel to Arizona on Christmas night. Set your lineups accordingly
Quarterbacks
Must starts (6): Peyton Manning, Tom Brady, Michael Vick, Drew Brees, Philip Rivers, Aaron Rodgers*
Injury watch*: Rodgers missed Week 15 due to a concussion, but has reportedly been cleared to play this week. Start him if he's active.
Start him: Josh Freeman, Bucs
The Bucs host the Seahawks, who can't stop anyone. They're 28th in points allowed, 29th in passing yards allowed, and only two teams have given up more touchdown passes than their 26. Amazingly, they're battling for the NFC West title with a 6-8 record. Parity rules!
Seriously, we like Freeman this week for more than just his opponent. His 211 yards per game and 18 touchdowns are OK, but he leads all quarterbacks except for the freakish Michael Vick in rushing yards with 330. Those couple extra fantasy points per game are a nice bonus.
Also: David Garrard's Jaguars have a home game against the Redskins' depleted and ineffective pass defense, and they need a win to keep their playoff hopes alive. Look for at least a solid fantasy effort.
Sit him: Carson Palmer, Bengals
Is anyone still playing this guy? The stats say yes. Palmer no longer has Terrell Owens (out for the season with a knee injury), and faces the Chargers' NFL-best pass defense this week. The only danger here is a San Diego blowout that puts Palmer in a fantasy-friendly garbage-time situation for the entire second half. Otherwise, he's terrible.
Also: Baltimore's Joe Flacco visits the better-than-you-think Browns, who he torched for 262 yards and three passing TDs in Week 3. However, the Ravens took a noticeable turn toward the running game last week, when Flacco threw only 20 times against the Saints. We're a little worried that the Ravens have started to lean more heavily on RB Ray Rice, which might be nice for their win-loss record (and Rice owners), but makes things dicey for Flacco's fantasy owners
Pick him up: Rex Grossman, Redskins
Grossman – owned in less than one percent of FOXSports.com leagues – is the Redskins' new starter, and he threw for 322 yards and four scores against the Cowboys. He wasn't great, but was able to do plenty of stat padding while playing from behind in the second half. Odds are that the 'Skins will be in the same position this week against the aforementioned jaguars, giving Grossman the chance to post nice fantasy totals again. He's a decent option in leagues that start two quarterbacks, as well as a Plan B for a questionable starter like Rodgers. Who would have guessed that two weeks ago?
Running backs
Must starts (12): Adrian Peterson*, Rashard Mendenhall, Arian Foster, Michael Turner, Ray Rice, LeSean McCoy, Peyton Hillis, Chris Johnson, Maurice Jones-Drew, Steven Jackson, Jamaal Charles, Darren McFadden
Injury watch*: Peterson was a late scratch in Week 15 due to a knee bruise. The Vikings play Sunday night, so make sure he's going to be active before setting your lineup.
Start him: Ryan Mathews, Chargers
Mathews is apparently back in the good graces of head coach Norv Turner, with 33 carries over the last two games. Bowling ball-like Mike Tolbert appears to have a slight edge as the team's lead back, but if the Chargers are able to soften up the Bengals' subpar run defense early, Mathews should get plenty of work as the game progresses.
Also: Tashard Choice had more carries than teammate Felix Jones last week, and got the goal-line work for the Cowboys. If you're scrambling for a third running back to play, Choice fits the bill. He's owned in just 14.1 percent of FOXSports.com leagues, too.
Sit him: Brandon Jacobs, Giants
After Ahmad Bradshaw had some fumbling issues in Week 11, the Giants announced that they were making a switch to promote Jacobs as the lead back in their tandem. That sounded nice, but over the last three games, Bradshaw has carried 55 times to Jacobs' 34. The Packers have allowed only six rushing touchdowns this season, so while Jacobs has been a popular fantasy start lately, we don't like his chances on the frozen tundra this week.
Pick him up: Maurice Morris, Lions
Morris and the Lions have a tough matchup against the Dolphins' sixth-ranked rushing defense this week, but he's been getting the ball plenty lately, and ran for 109 yards and a score in Week 15. Any lead back is worth a free-agent claim, and that's what Morris is right now. He's owned in 6.3 percent of FOXSports.com leagues.
Also: With Knowshon Moreno questionable due to a rib injury, the Broncos might have to turn to backup Lance Ball, who is unowned in 99.9 percent of FOXSports.com leagues. Yes, we know that Ball ran 15 times for just 20 yards against the Raiders in Week 15. However, he'd have two things going for him in Moreno's absence. First, the Broncos are keeping the gameplan simple for QB Tim Tebow, so they're likely to run a lot. Second, have you seen the Texans' defense? Sure, they're better against the run than the pass, but they're giving up 27 points per game. They're so awful, even Ball might be able to run against them … Peterson owners might want to grab backup Toby Gerhart (13 percent owned) in case their guy can't go. Gerhart ran for 77 yards on 16 carries in Peterson's stead last week.
Receivers (WR/TE)
Must starts (12): (WR – 7) Calvin Johnson, Andre Johnson, Reggie Wayne, Roddy White, Greg Jennings, Dwayne Bowe, Hakeem Nicks; (TE – 5) Antonio Gates*, Jason Witten, Jacob Tamme, Vernon Davis, Chris Cooley
Injury watch*: Gates will be a question mark until the season ends, but you should start him if he plays … As mentioned earlier, Terrell Owens is out for the season.
Removed until further notice: With Tebow at quarterback, you might still want to start Brandon Lloyd – who did catch his 10th TD pass of the season last week – but we won't insist on it.
Start him: Davone Bess, Dolphins
Dolphins QB Chad Henne tends to check down before throwing downfield. Bess is Mr. Checkdown, finding open spaces underneath – kind of like the Patriots' Wes Welker. Bess has caught 22 passes for 262 yards over his last four games, and has been targeted 36 times in that span. He's close to a must-start in points-per-reception leagues, and a nice option in standard formats as well.
Also: Seattle's Mike Williams – not to be confused with Tampa Bay's Mike Williams – returned from injury last week to catch eight passes for 66 yards. He might as well wear a sign that says HASSELBECK IS THROWING THE BALL TO ME, because that's true on a large percentage of the Seahawks' pass plays. Look for more of the same against the Bucs, who just happen to be playing without their best defensive back.
Sit him: Santonio Holmes, Jets
The stingy Bears have allowed just 12 passing touchdowns, which is the second-lowest total in the league – they're sort of a "bend but don't break" unit. Holmes hasn't scored for three weeks, and hasn't broken 100 yards for four, because QB Mark Sanchez is struggling. We don't hate Holmes this week, since he still gets plenty of targets, but we don't like his matchup. Snow is possible for Soldier Field on Sunday, by the way.
Pick him up: Emmanuel Sanders, Steelers
Sanders (one percent owned) was targeted a surprising 13 times by Ben Roethlisberger in Week 15, catching seven passes for 78 yards. We're not sure if that was a fluke or a sign of things to come, but if you're looking for a free-agent wideout this late in the season, Sanders could be a worthwhile gamble.
Also: The Rams say that TE Mike Hoomanawanui (0.3 percent owned) might be ready to return this week after missing two games with a sprained ankle. In case he does, don't forget that he scored in two straight games and three of his last five prior to the injury. Hoomanawanui is in the TE2 range for most leagues, but if you're in a pinch, he might be able to help. The only catch is that you need to learn how to say Hoomanawanui's name before picking him up.
We'll be back here next week for all those in crazy leagues with Week 17 title games. Good luck, and Merry Christmas!
John Halpin writes his "Wide Write" fantasy football column every week during the NFL season for FOXNews.com. He also writes fantasy columns and early-morning blogs four days a week at FOXSports.com/fantasy, and co-hosts a daily fantasy podcast. You can receive more fantasy news and contact John by following him on Twitter, or e-mailing him at jhalpin37@gmail.com.