Why an immediate rematch between Ronda Rousey and Holly Holm is a terrible idea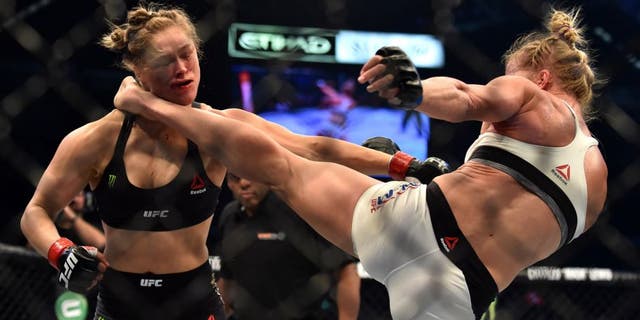 Ronda Rousey left UFC 193 concussed, with her mouth split open and no answers at all for the new bantamweight champion Holly Holm. She goes home to deal with conflict among key members of her team, and her head coach facing possible financial ruin.
On top of all that, she's just completed perhaps the most hectic and taxing year any UFC fighter has ever had -- with three title defenses in nine months, multiple movies filmed and released, a book written, and promoted. Still, reporters in attendance at the Etihad arena in Melbourne after the event somehow thought it reasonable to suggest an immediate rematch between Rousey and the woman who had just dominated her thoroughly.
Holm, ever game, eagerly accepted the idea of an immediate rematch. UFC president Dana White certainly didn't shut the idea down, either, given the money any Rousey fight makes.
Still, an immediate rematch between Rousey and Holm is the wrong way to go and you can take your pick of reasons why. Let's start with this:
Rousey is banged up. Bad.
Now isn't the time to continue to milk her further for cash. It's time for Rousey to rest, to heal her body, and sort out her personal life.
Rousey needs time to recover, and if Holm ends up being relatively healthy, forcing an immediate rematch would only deprive the division of exciting fights while we wait for the former champ to heal.
Here's another reason -- Rousey has nothing for Holm. Their first fight wasn't close, controversial or even very competitive.
If Rousey gets pushed into an immediate rematch, it wouldn't be fair to other contenders or to the Rowdy One. The judoka needs time to improve her skills, after she takes time to rest and heal.
Everything that had worked on other fighters for Rousey -- takedowns, arm bars -- didn't work on Holm. Holm defended takedown attempt after takedown attempt, and slipped out of Rousey's arm bar and then delivered punishment from above with apparent ease. In the striking department, Holm is on another level.
She was quicker, more fluid, more powerful, and hit Rousey at will while making the Olympian stumble and fall, off-balance, with her movement. With all her previous dominance, it is easy to forget that Rousey has a fraction of the experience Holm does when it comes to fights where one can actually punch and kick.
That is to say, Rousey may have been talking about retirement lately, but she's still a baby in fighting and can improve a great deal if she chooses. If she wants to beat Holm, she may need to.
I get it -- Rousey makes big fights and makes money. An immediate rematch would only do favors to her promoter and her opponent, however, and none to herself.
Rousey has already bent over backwards to help the UFC out at every turn. She doesn't hesitate to fight abroad, she's let them move fight dates up on her, has readily accepted opponent changes, and fights more often than any other champion, all while doing more PR work than is probably smart for a fighter in training.
The bantamweight division, and the UFC, with its exciting new champion, can take care of itself for a while.
Rousey has given enough. It's time for her to take care of herself, now.