Which WR who missed all of 2015 will come back strongest in 2016?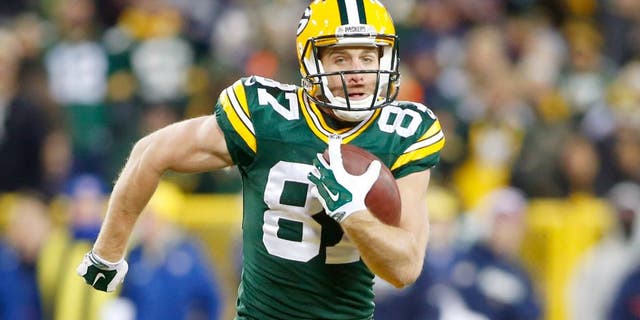 NEWYou can now listen to Fox News articles!
It's tough for a player to come back from a full season away from the game. It's even tougher when fans are expecting major production from that player upon his return.
Six big-name wide receivers did not play a single snap in 2015. All eyes will be on them in 2016 to see if they'll provide the impact their respective teams have been missing. Some are bound to bounce back, while others are sure to fall short of expectations.
Read about the six pass-catchers highlighted below, then vote for the player you expect to have the most productive 2016 season in the poll at the bottom of the page.
Jordy Nelson, Green Bay Packers
Nelson tore his ACL during the preseason and was moved to injured reserve on Sep. 1. From 2011 to 2014, he recorded 300 catches for 4,841 yards and 43 touchdowns. He is quarterback Aaron Rodgers' top target, so Green Bay's offense struggled without him in the lineup in 2015 (219 passing yards per game, tied for 25th in NFL). The Packers will be glad to have Nelson, who turns 31 in May, back for the 2016 season.
Victor Cruz, New York Giants
Cruz injured his calf during his recovery from a torn patellar tendon suffered on Oct. 12, 2014. The Giants held out hope for him to complete his comeback, but they ultimately placed him on injured reserve in mid-November, when it became clear that he needed season-ending surgery on his calf. Cruz eclipsed 1,000 receiving yards in 2011 and 2012, but those seasons seem like an eternity ago. If the 29-year-old is healthy enough to play in Week 1 of the 2016 season, it will be his first game in 23 months.
Josh Gordon, Cleveland Browns
Gordon is the only player on this list who did not suffer a major injury. Rather, his missed time has stemmed from substance-abuse suspensions. He led the league with 1,646 receiving yards in 2013, and then was suspended for the first 10 games (plus Week 17) of the following season. He was suspended for the entire 2015 season but is eligible for reinstatement on Feb. 3. If Gordon comes back and is able to avoid future violations, the Browns' receiving corps will feature a supremely talented 25-year-old.
Kelvin Benjamin, Carolina Panthers
Benjamin tore his ACL in August and has been rehabilitating on injured reserve since then. The Panthers picked him in the first-round of the 2014 NFL Draft (28th overall), and he went on to record 73 receptions for 1,008 yards and nine touchdowns as a rookie. Although Carolina won 15 regular-season games without Benjamin, the team should be even stronger when this 6-foot-5, 245-pound pass-catcher is back in the mix.
Kevin White, Chicago Bears
White developed a shin injury last spring, leading to a surgical procedure in August. The Bears hoped that the seventh-overall pick in the 2015 NFL Draft would eventually make his rookie debut, but he ended up spending the entire season on the physically unable to perform list. Quarterback Jay Cutler is already on the rise; the addition of White should take Chicago's passing game to the next level in 2016.
Breshad Perriman, Baltimore Ravens
Perriman never saw the field during his rookie season, as a PCL injury ultimately resulted in his landing on injured reserve in November. The Ravens selected him with the 26th-overall pick in last year's draft, so they were expecting him to be a big part of the offense. Perriman still can be in 2016, if the extremely athletic receiver and quarterback Joe Flacco (knee) can both fully recover from their respective injuries.